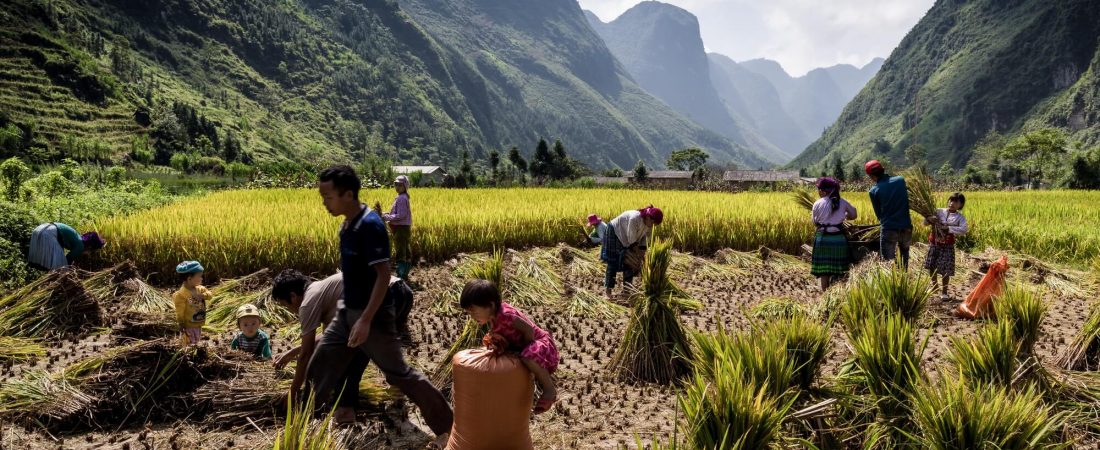 THE RICE TERRACE HARVEST TRAILS
Price: US$5890 / person
Tour Dates:
– 1 to 16 September 2022
– 31 August to 15 September 2023
– 29 August to 13 September 2024
Duration: 16 days / 15 nights
Group Size: 6 persons max.
Level: Beginners to Advanced
Tour Highlights
The incredible karst plateau of Dong Van, listed in UNESCO Global Geoparks Network
The visit of H'mong villages and encounters with the local population
The sunday markets of Dong Van and Meo Vac
The spectacular road from Dong Van to Meo Vac, and the Ma Pi Leng passage.
The magnificent rice terraces of Hoang Su Phi, a Vietnam National Heritage site
An ethnic market around Bac Ha
The weekend ethnic market of Muong Hum
Y Ty, Ta Giang Phinh and Muong Hum's magnificent terrace ricefields
Encounters with diverse ethnic minority groups
Mu Cang Chai's rice terraces, a Vietnam National Heritage site
This tour combines our two acclaimed East and West mountain loops, taking you through Ha Giang sugar loaf mountains, Vietnam National Heritage classified rice terraces of Hoang Su Phi and Mu Cang Chai, and the exhilarating Muong Hum and Sapa valleys. A dreamlike adventure for people and landscape lovers, taking place at the best time of the year: the golden rice harvest!
This tour will take you to our favorite secret spots throughout North Vietnam mountainous regions, right in the midst of the rice harvest activities. A perfect opportunity to capture and portrait the every day life of the ethnic groups of the region, on the back drop of world-class landscapes and breathtaking sunrises and sunsets. Now in it's 5th edition, we've fine-tuned our itinerary over the years to offer the most unique and rewarding photographic and human experience. Join us on a memorable adventure set to explore one of the world's most picturesque region, and witness the traditional lifestyles of North Vietnam ethnic communities.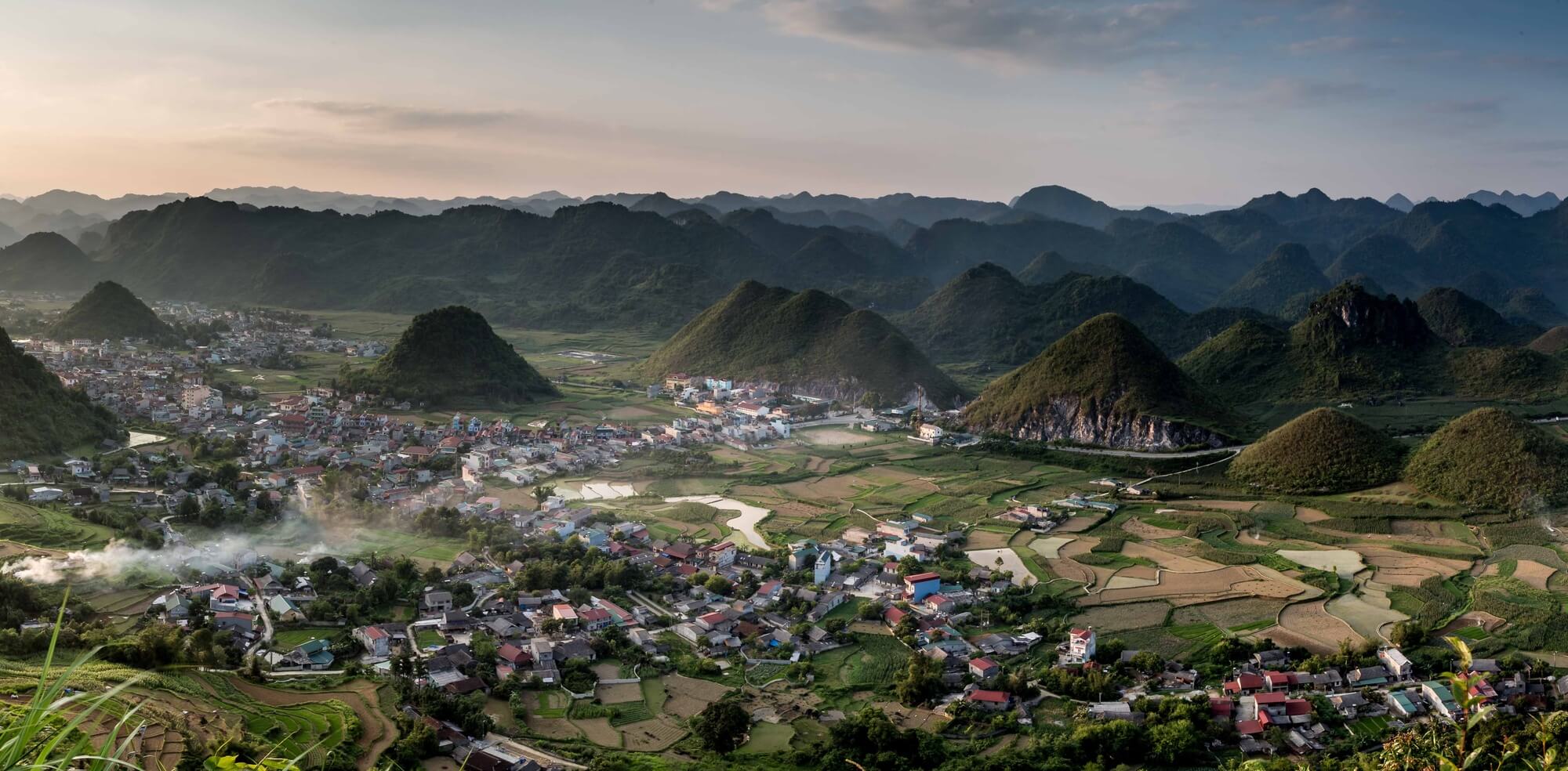 Day 1
● Hanoi ▸ Quan Ba
● 7 hours' travelling / 4 hours photography
We will leave Hanoi early in the morning to reach Quan Ba in the late afternoon. As we'll move forward to our destination, the sceneries will become more and more spectacular, crossing stunning hilly landscapes, corn and manioc fields, tea plantations and after reaching Ha Giang town, we'll come upon our first rice terraces.
Just before Quan Ba, we will pass the "Heaven's Gate", with its mountains stretching to the horizon, marking the entrance to Dong Ba Karst Plateau, listed in UNESCO Global Geoparks Network. A magnificent point of view to come back home with stunning landscape photos, hopefully helped by a nice weather.
Dinner and night in our Red Dao eco-lodge.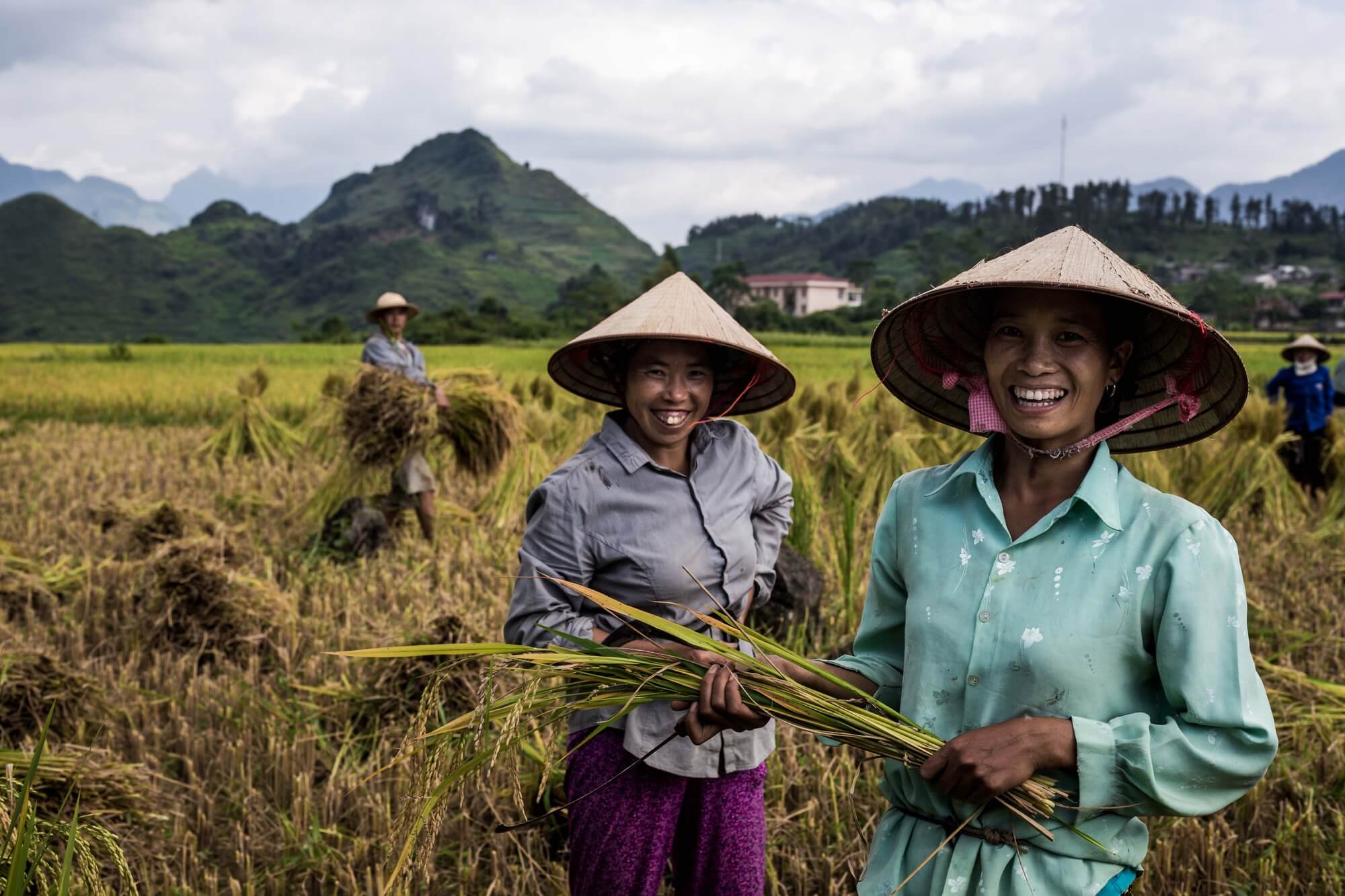 Day 2
● Quan Ba
● 6 hours of photography
We'll spend the day in the rice fields around Quan Ba capturing the farmer's activities in the fields, witnessing the rice harvest. The harvest is still done by hand, the whole family is at work, and the neighbors give a hand, in an atmosphere of joy. Thus parcels after parcels, the harvest and the work that accompanies it are spread over approximately 3 weeks.
Dinner and night in our Red Dao eco-lodge.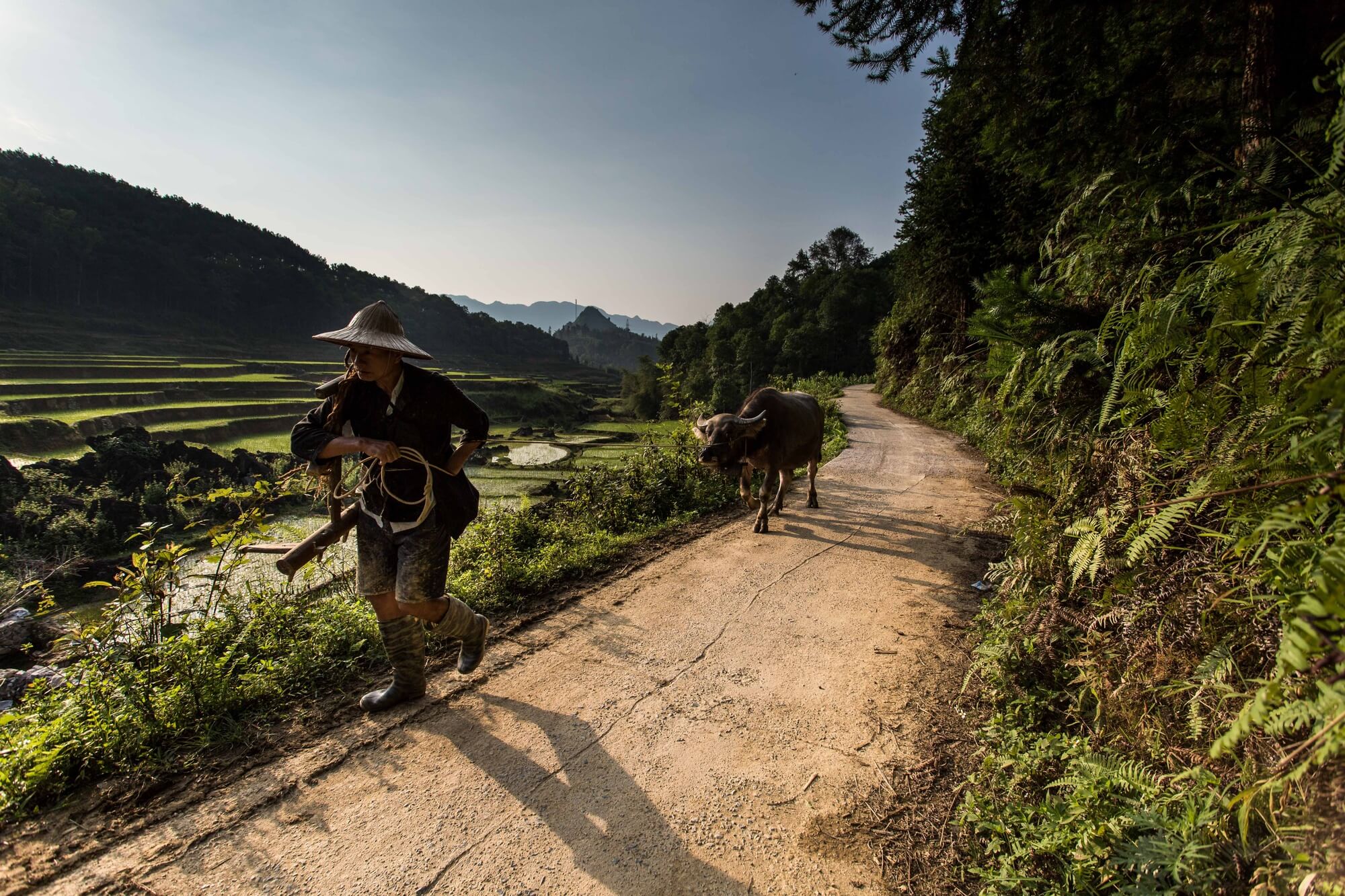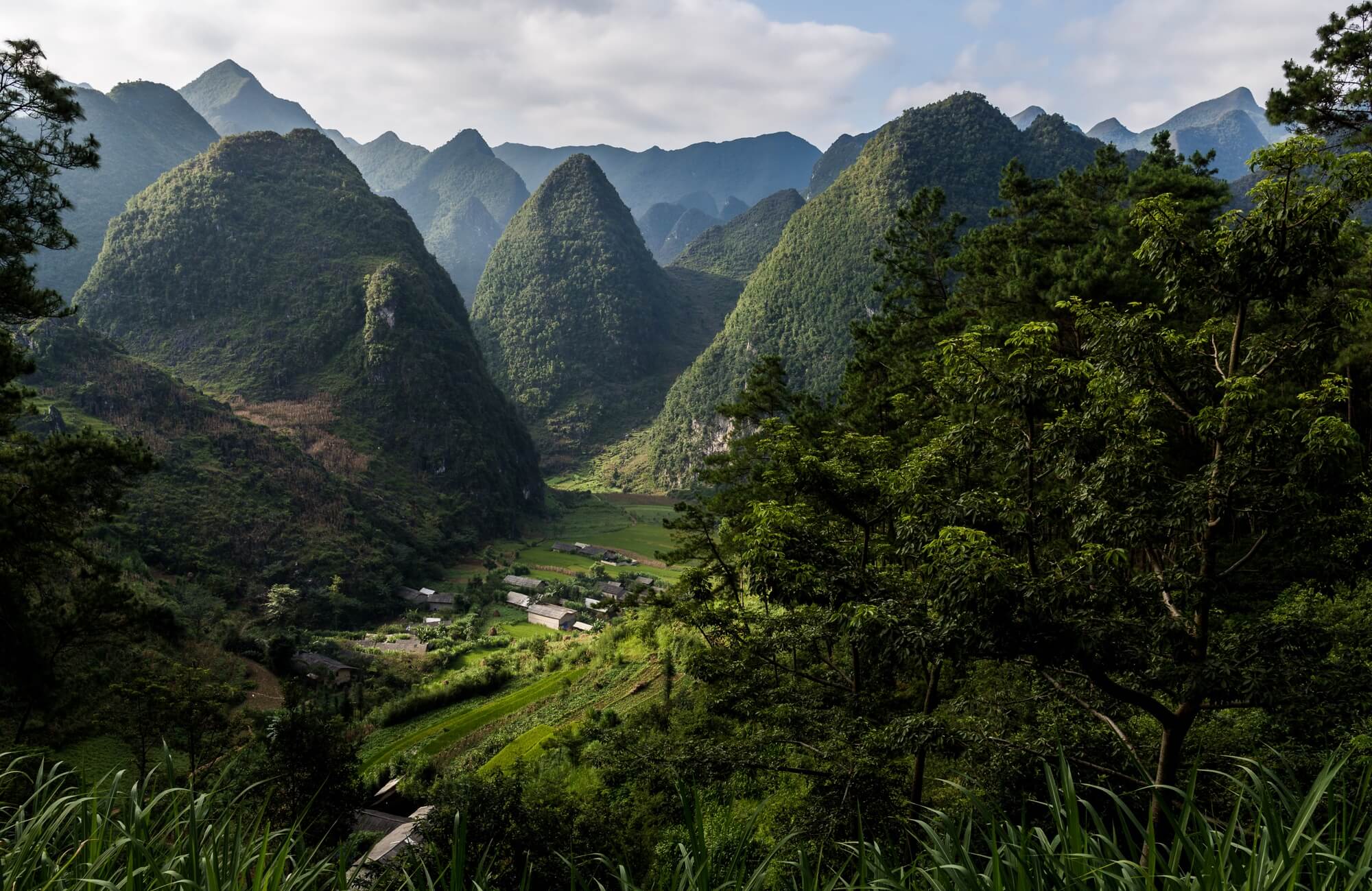 Day 3
● Quan Ba ▸ Pho Cao ▸ Dong Van
● 5 hours' travelling / 4 hours of photography
We will start the day with a beautiful valley below Quan Ba well filled with rice fields. We will then delve into Dong Van Plateau, an extremely wild region made of limestone pitons and black granite needles: a truly breathtaking panorama.
After lunch in Yen Minh, we will head to Pho Cao, a superb H'mong village with some 200 years old houses, so far my favorite village in the area, with Pleiades of villagers vacant to their daily occupations of another age before finally reaching Dong Van in the late afternoon.
Dinner and night at our Ecolodge.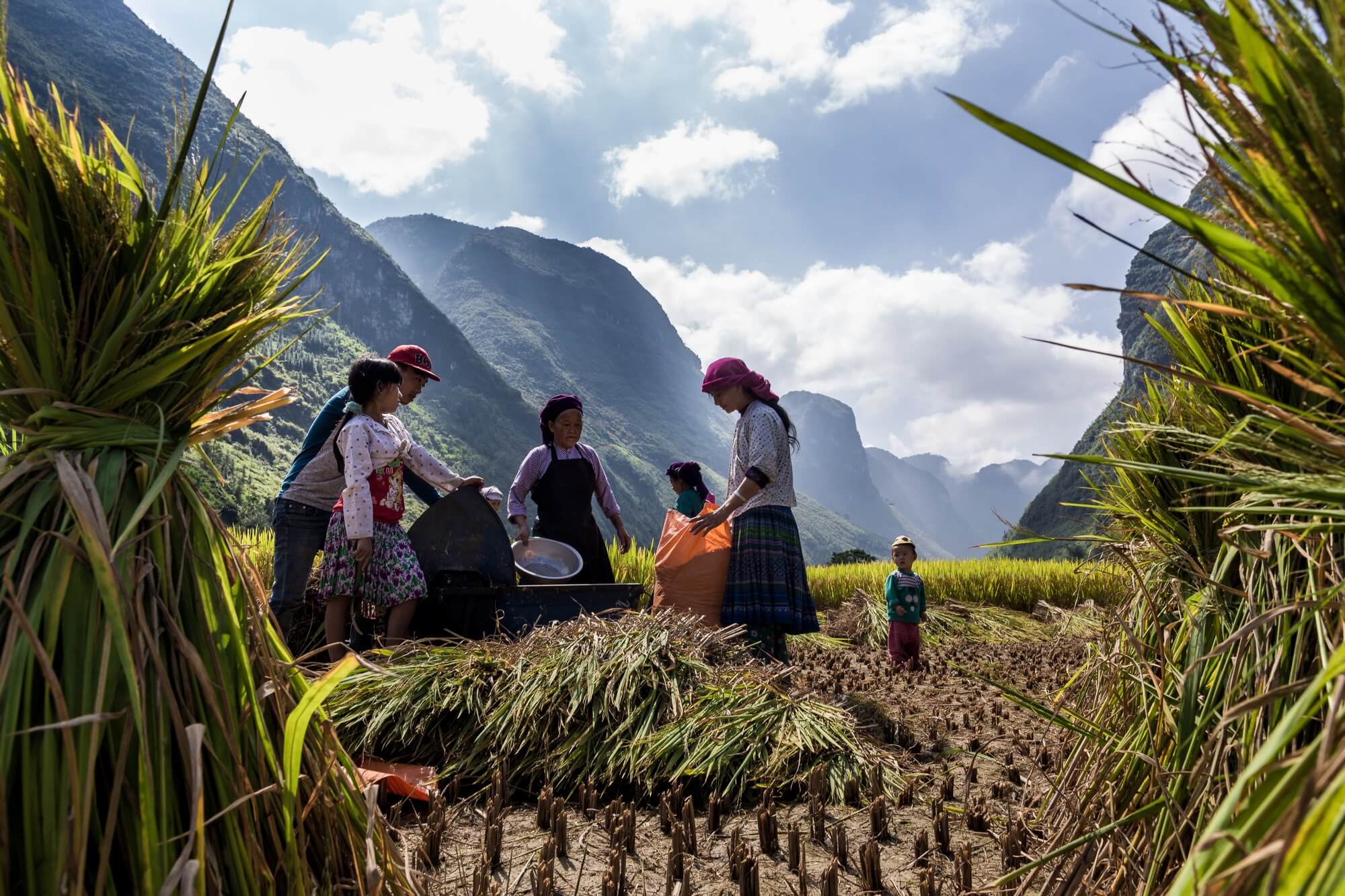 Day 4
● Dong Van ▸ Sa Phin ▸ Pho Bang ▸ Dong Van
● 1,5 hours' travelling / 6 hours of photography
For the bravest amongst us, we will go on a small trek to the summit overlooking Dong Van: after almost an hour ascension we will be greeted with a magnificent view over the valley.
We will then head towards Sa Phin to explore the surprising Vuong Chin Duc Palace, king of the H'mongs (and opium trafficking), built on a small hilltop a palace in a similar style to Chinese yamens. At its peak, the fortress boasted up to 100 inhabitants.
After lunch, we will go and visit the superb village of Pho Bang, where H'mongs keep their traditions alive.
Dinner and night at our Ecolodge.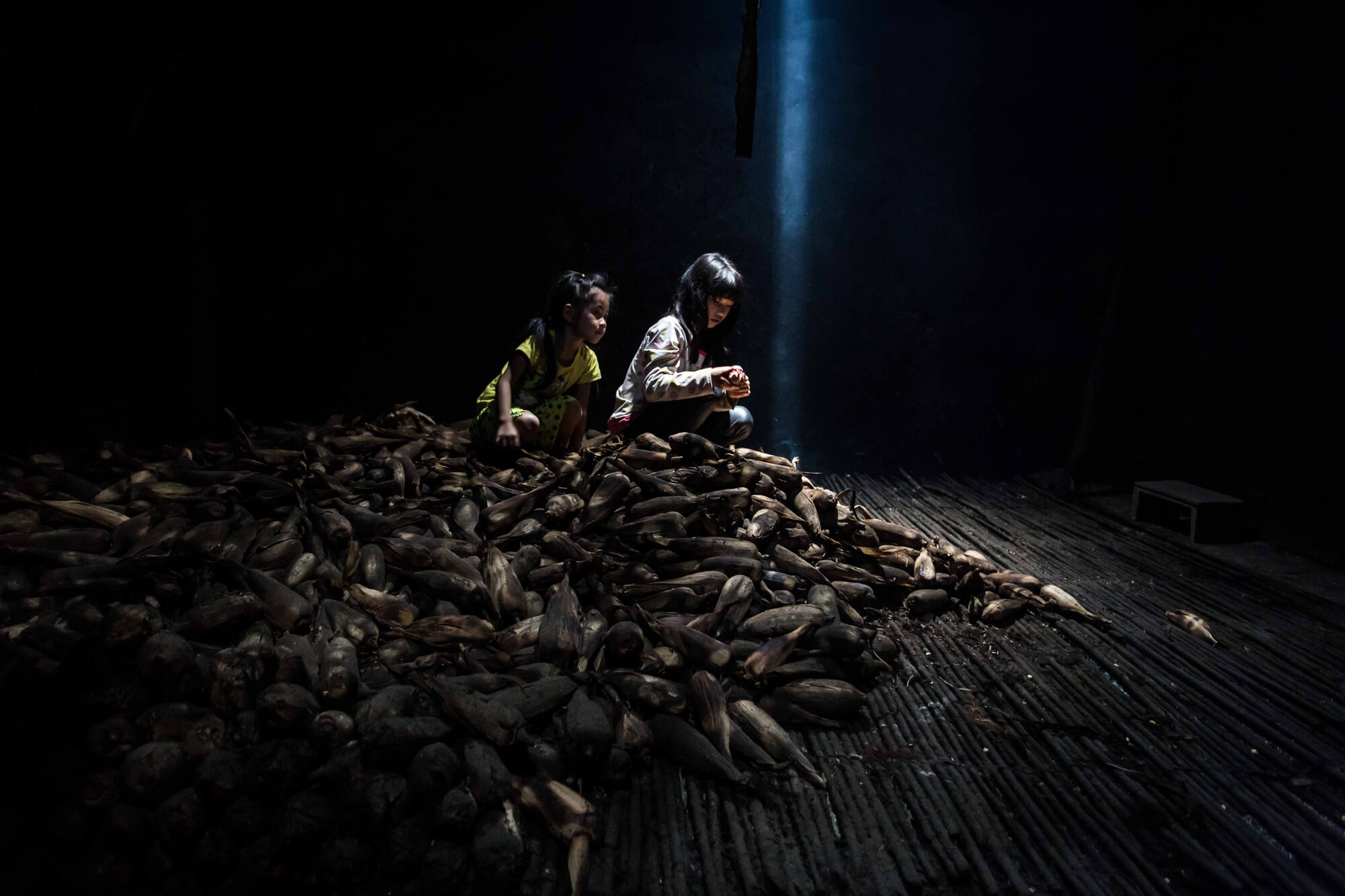 Day 5
● Dong Van ▸ Meo Vac
● 2 hours' travelling / 7 hours of photography
We'll have much to do on that morning, as we'll go visit 2 dominical markets, linked together by one of the most spectacular road in Vietnam: better get your gear ready! The ethnic minorities of many different groups leave their home villages very early in the morning to reach Dong Van market, a place to trade merchandises but also a gathering site to socialize and meet with others.
We will then head to Meo Vac, home to the Black H'mong Eagle's Nest. Upon arrival we'll discover the livestock market, a one of its kind location in the Ha Giang province, where between 400 and 1000 cattle are traded during the course of the morning, along with many horses, pigs and dogs, before visiting the main market.
After lunch, we will wonder around Meo Vac and the Ma Pi Leng passage taking multiple photography stops, following a road meandering through the mountain sides and getting through the Ma Pi Leng passage, overlooking a vertiginous canyon and the No Que River gorges further down.
Dinner and night at the Auberge de Meo Vac eco-resort.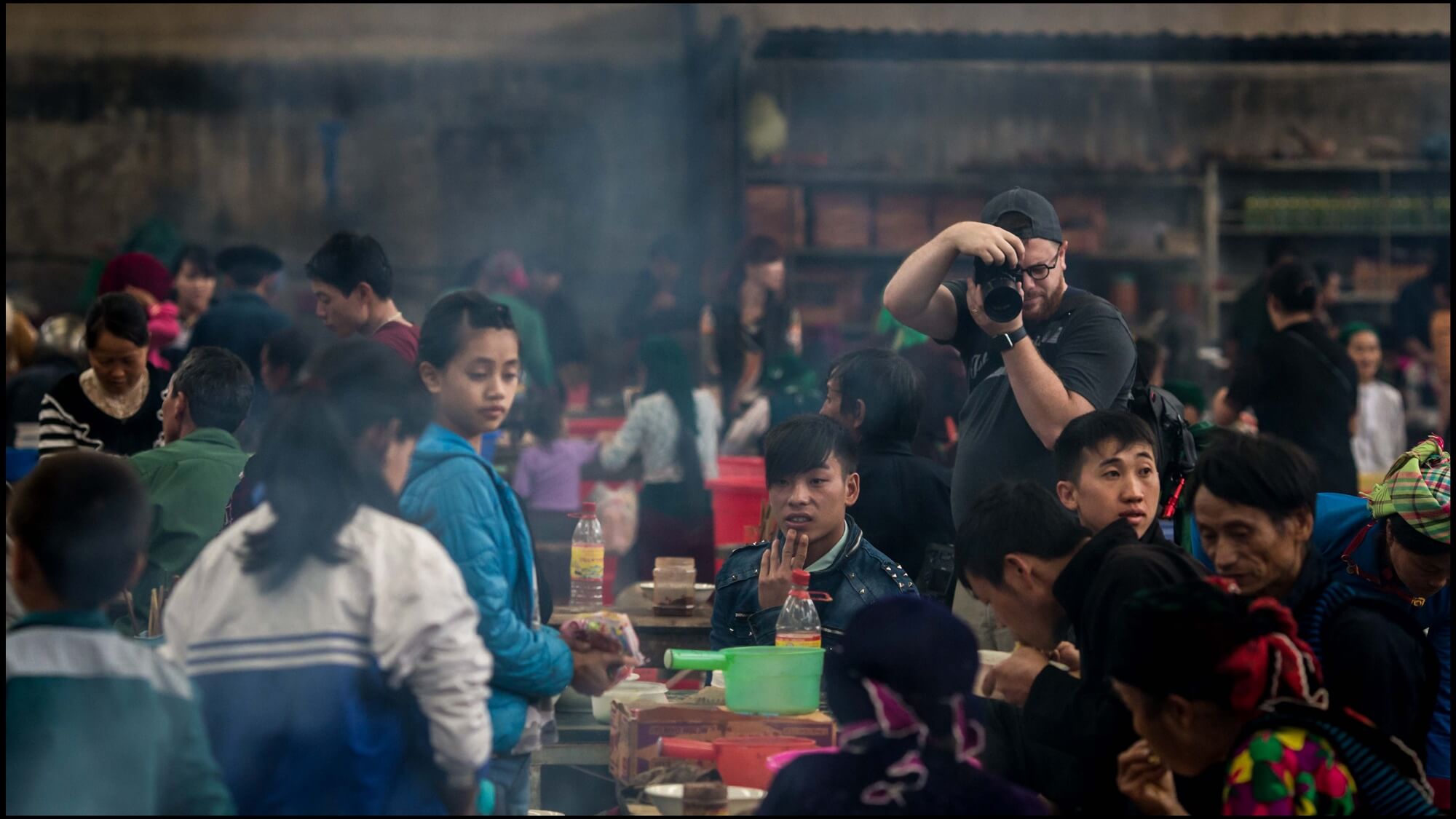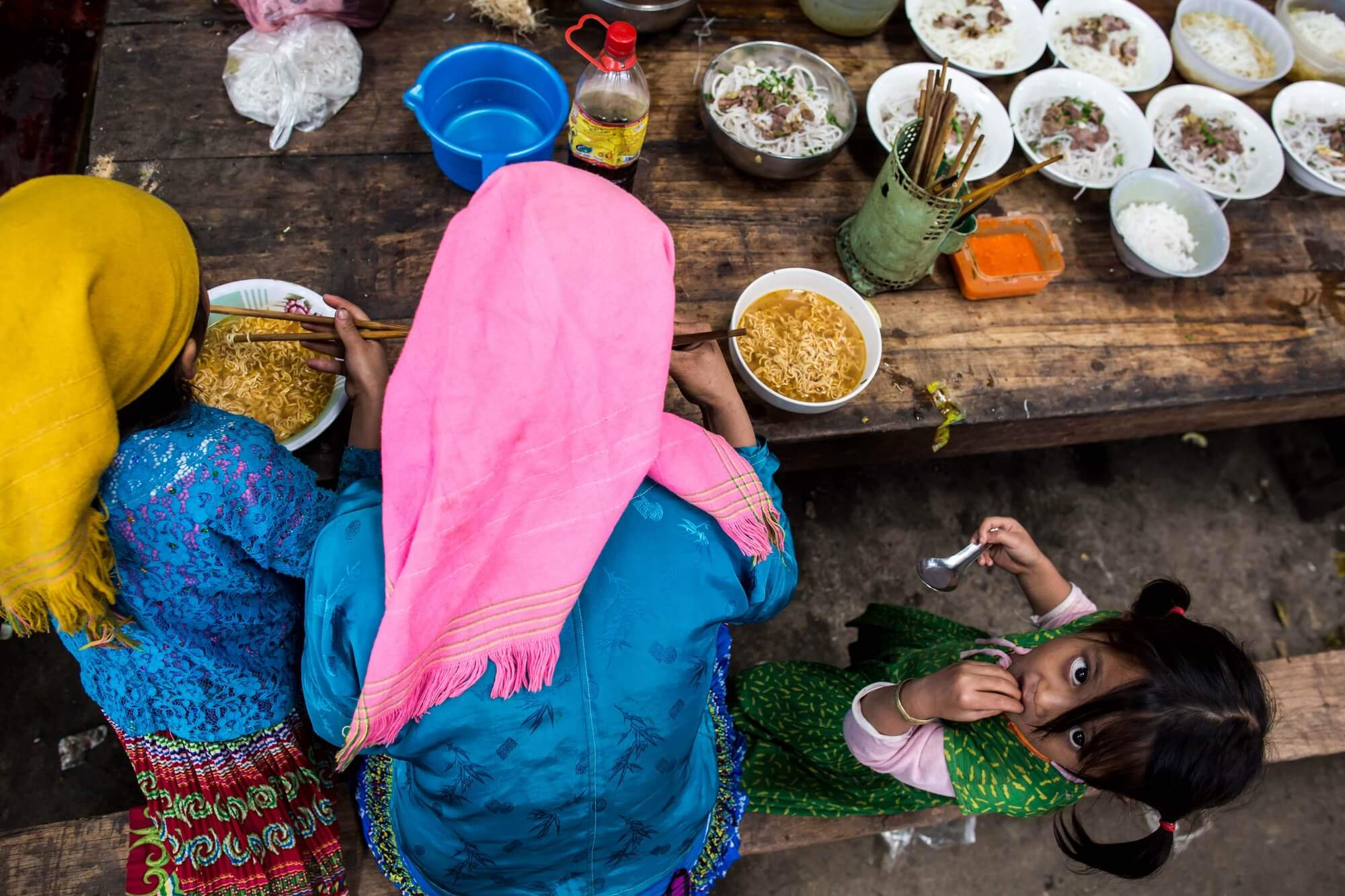 Day 6
● Meo Vac ▸ Ha Giang
● 6 hours' travelling / many landscape photography stops
After breakfast, we will head back to Ha Giang town following a different road surrounded by breathtaking karst mountain landscapes. We will take our time and make multiple landscape photography stops. We will arrive in Ha Giang town in the early evening for dinner.
Dinner and night at our Ecolodge.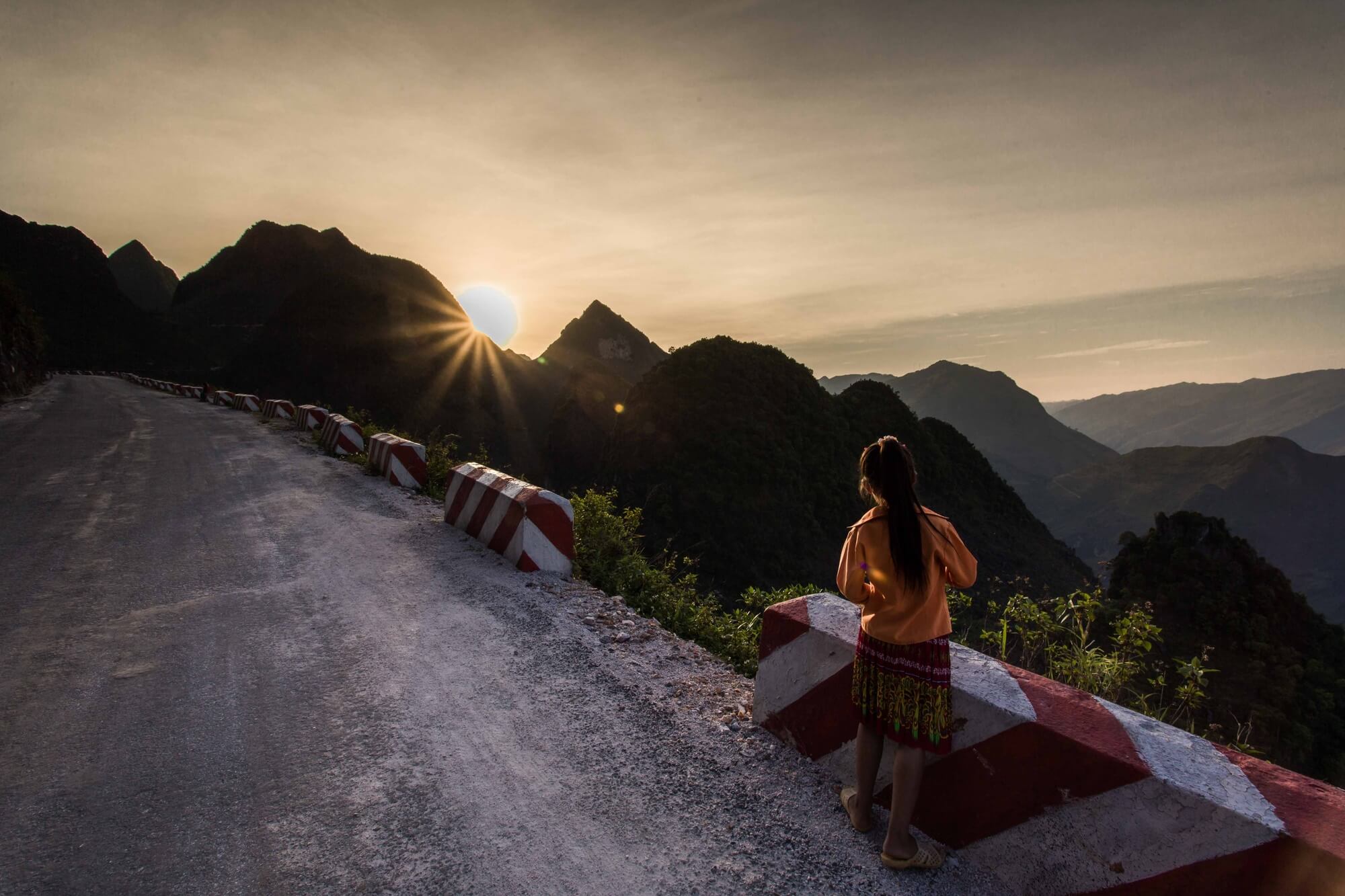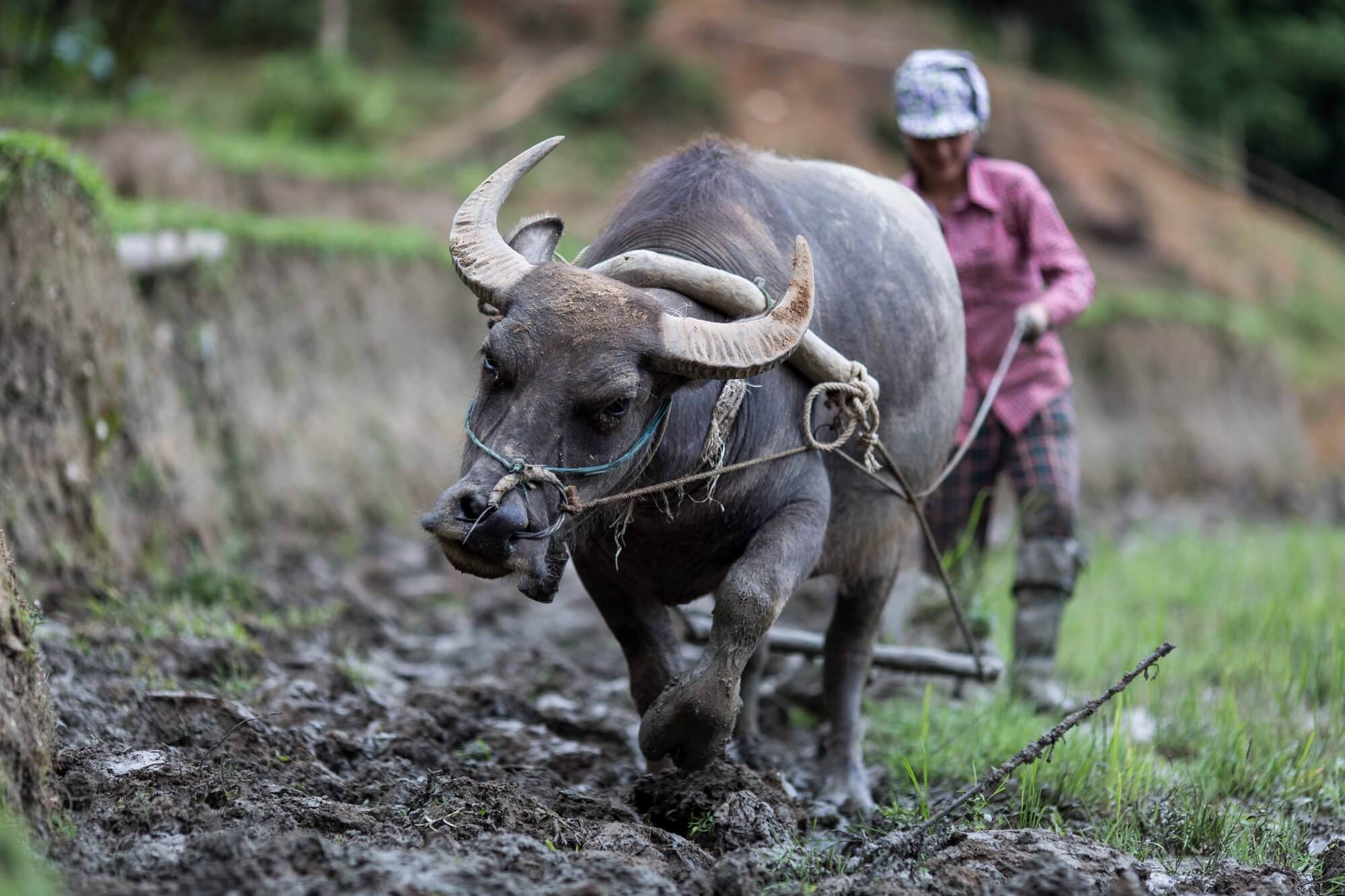 Day 7
● Ha Giang ▸ Hoang Su Phi
● 2 hours' travelling / 4 hours photography
After spending the early morning hours in lovely Tay ethnic villages nearby Ha Giang town we will head to our resort in Hoang Su Phi, nested in a beautiful rice field valley.
After lunch we will go exploring to a nearby-forested area dotted with rice terraces, and meet up with the Dap ethnic people in Ban Peo and Ban Nhung villages.
Dinner and night in our Ecolodge.

[/vc_row_inner]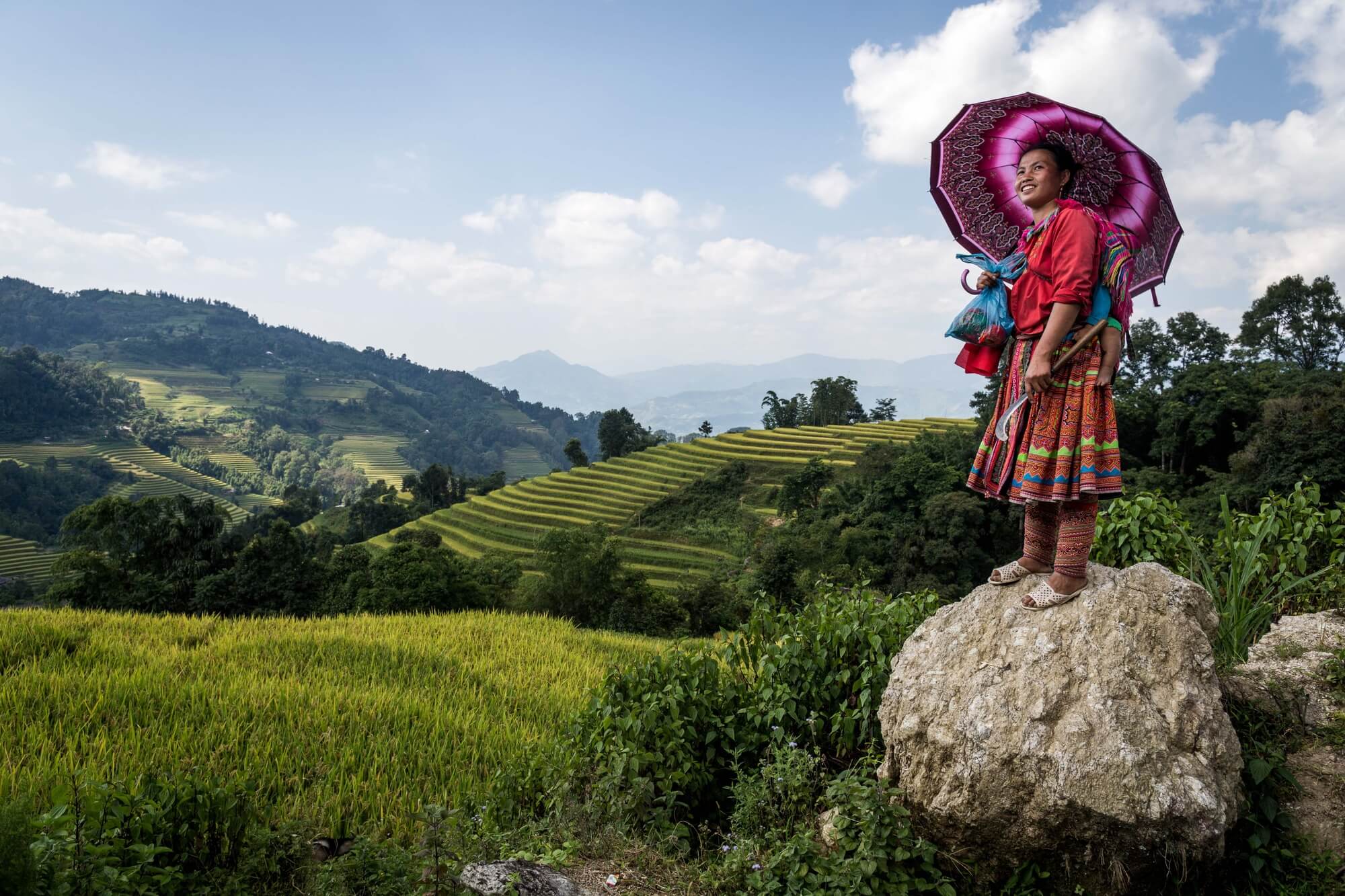 Day 8
● Hoang Su Phi Rice Terraces
● 2 hours' travelling / 6 hours of photography
The rice terraces of Hoang Su Phi have existed for more than three centuries; many generations of farmers from La Chi, Dao or Nung ethnic groups have shaped those hill curves, dug up the irrigation canals and terraced the mountainsides in stairs to cultivate rice. These rice fields have a total surface area of 630 km2 and are listed since 2012 as a Vietnam National Heritage site.
In the morning, we will go explore the village of Ban Luoc. It is home to the country's largest rice terrace field, stretching over 200 acres and with an altitude difference of more than 1500 meters, and is consisted of thousands of successive platforms separated from each other by one meter. In the afternoon, we will visit Ban Phung Village with its equally visually stunning rice terraces.
Dinner and night in our Ecolodge.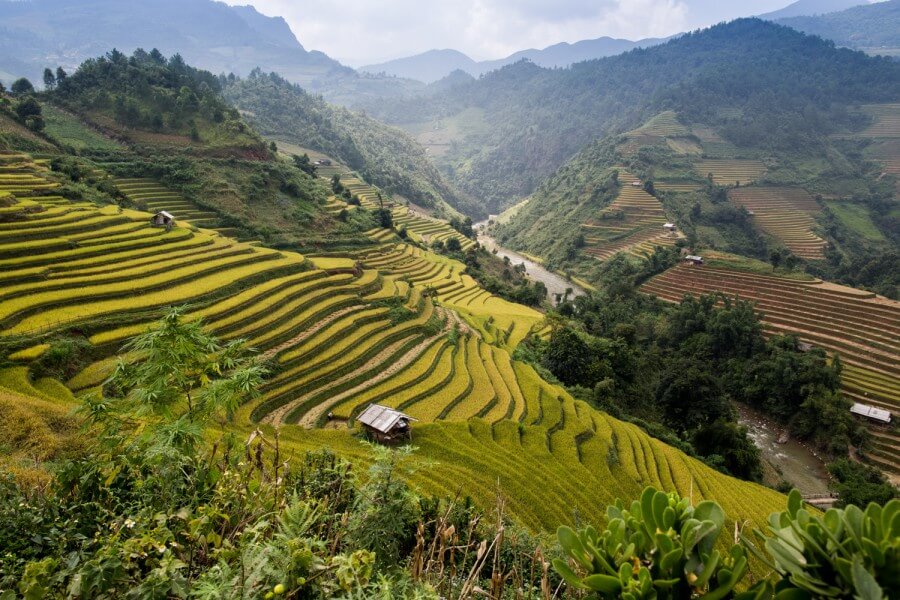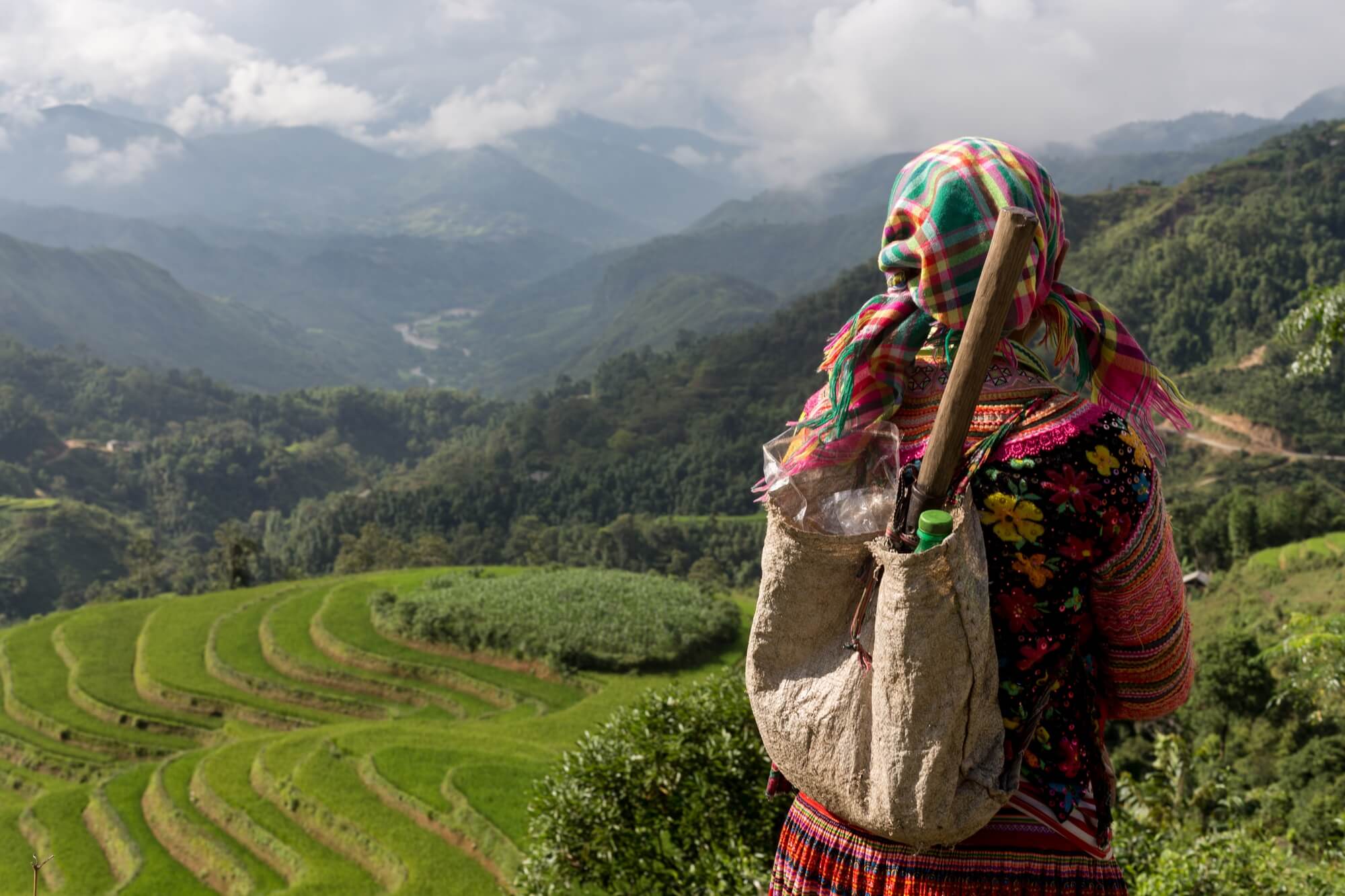 Day 9
● Hoang Su Phi ▸ Xin Man ▸ Bac Ha
● Photo review / 4 hours' travelling
We will spend our morning doing a photo review checking everyone's photo series. After lunch we will hit the road to Bac Ha that we will reach by the end of the afternoon not without stopping along the way to discover one or two ethnic villages.
Dinner and night in Bac Ha.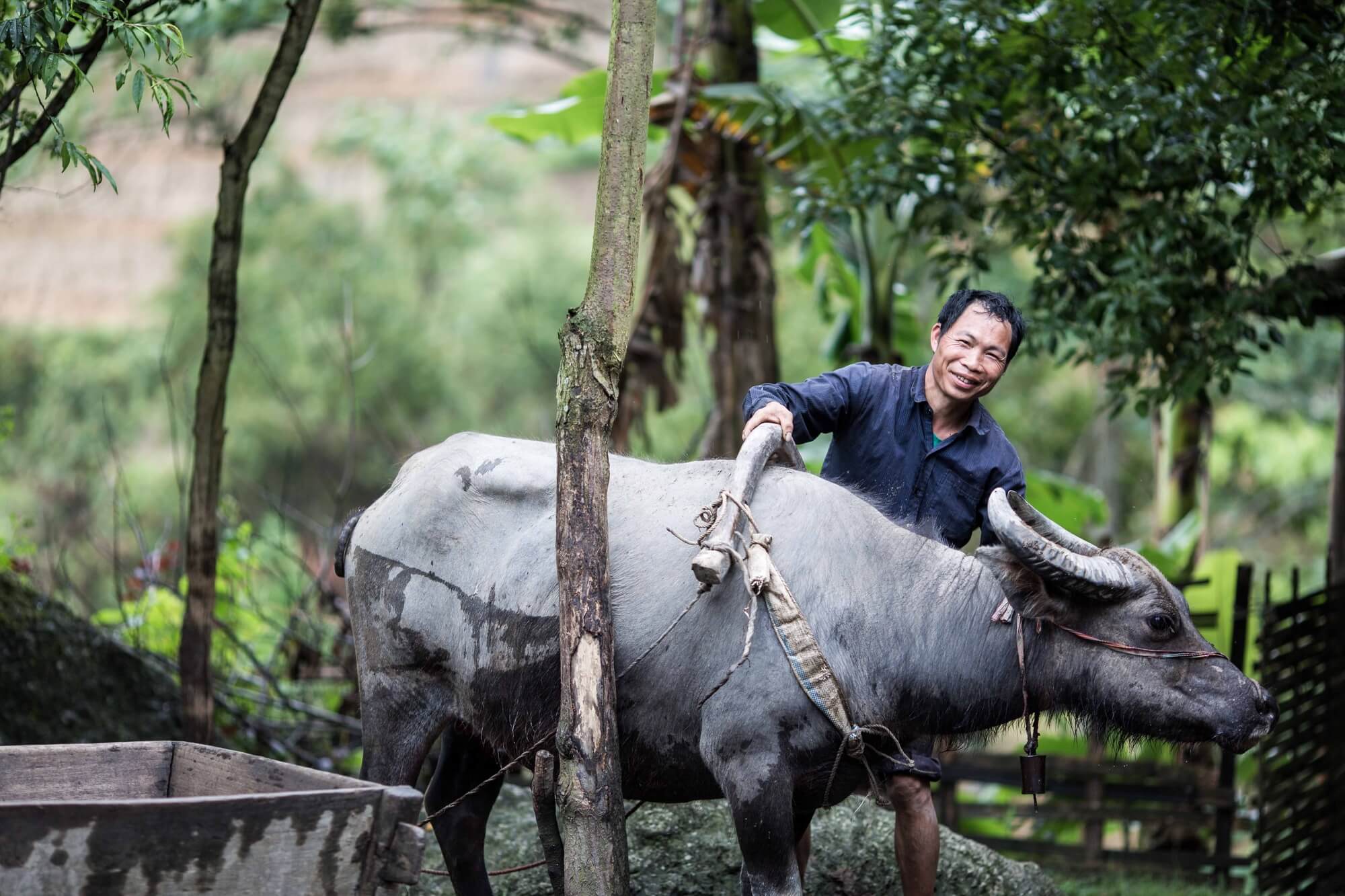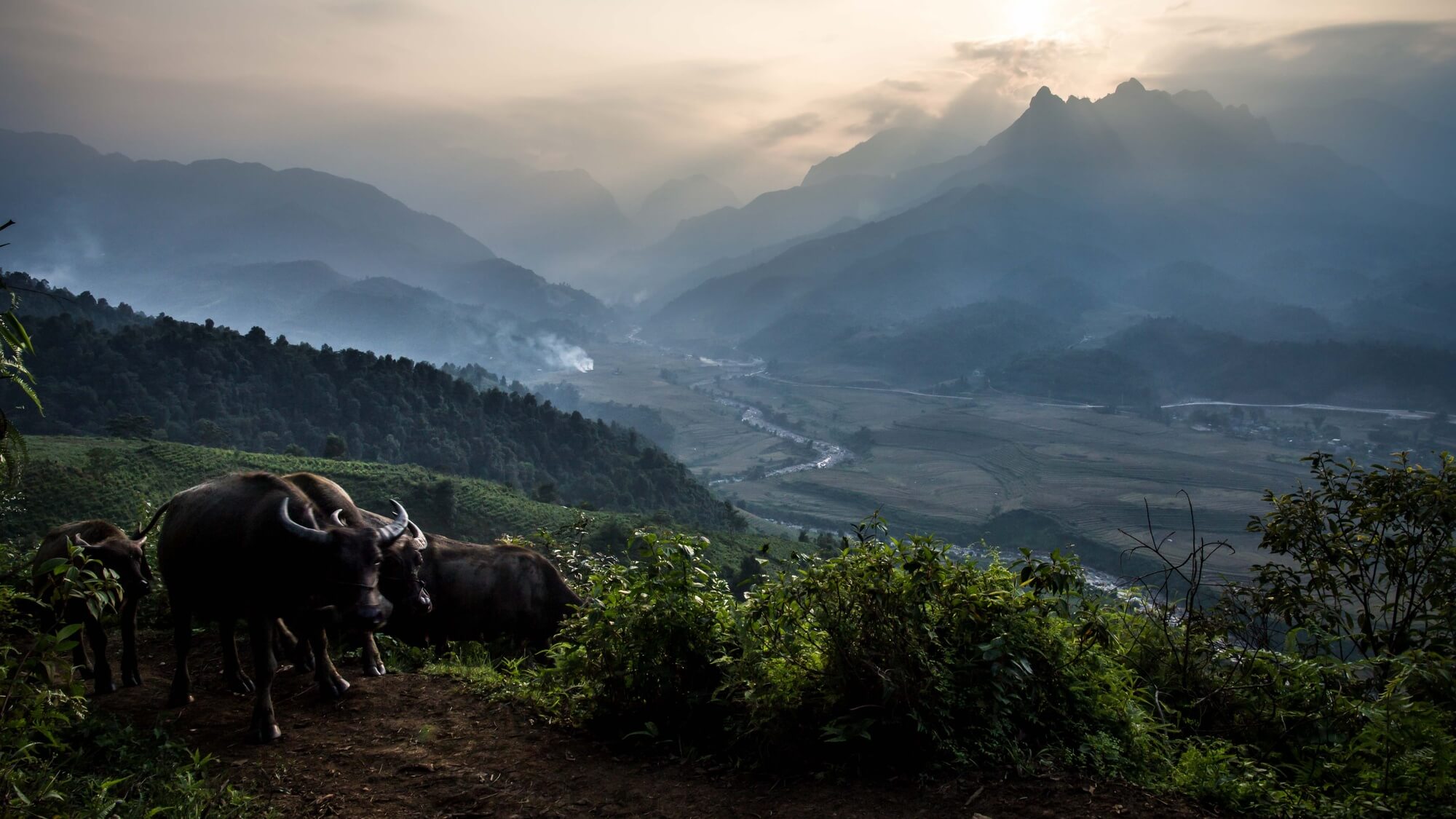 Day 10
● Bac Ha ▸ Lao Cai ▸ Muong Hum
● 3,5 hours' travelling / 4 hours of photography
After a morning stroll in Bac Ha town we will reach Lao Cai for lunch. With a full stomach we will zigzag between the rice terraces, more beautiful the ones than the others until the village of Muong Hum nestled at the foot of the mountains with of course photo stops almost every bend, well almost… We will spend the late afternoon above in the tea plantations to photograph the sunset with a superb view over a splendid
mountain.
Dinner and night at our Giay ethnic friend's home.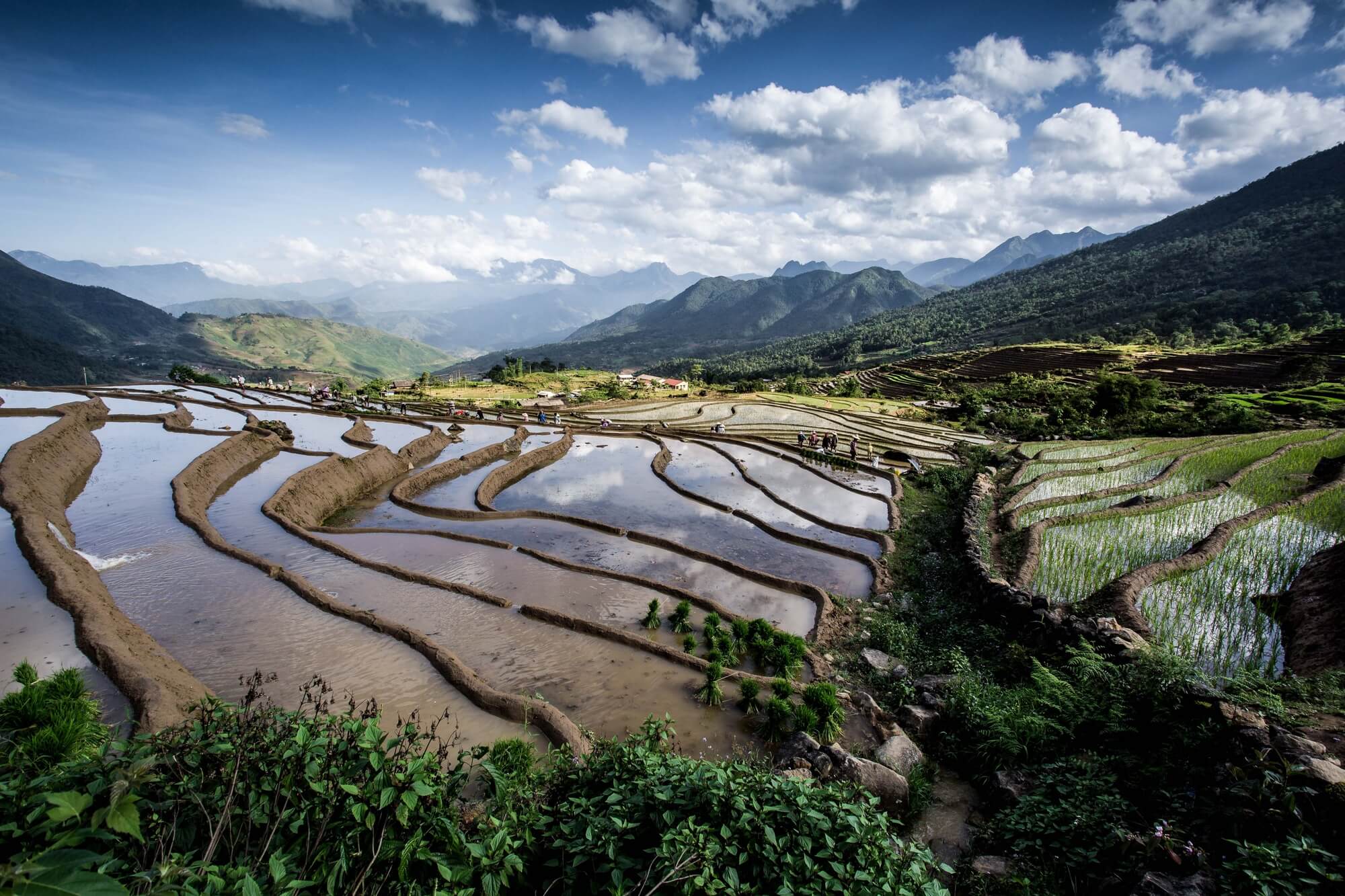 Day 11
● Muong hum ▸ Y Ty ▸ Muong Hum
● 3 hours' travelling / 6 hours of photography
We will start the day by heading to the weekly market of Y Ty, situated just across China, on the other side of the valley. The road to it as well as the encounters with the local population will inspire you. The market offers a multitude of colorful costumes and head coverings from various ethnic groups, such as the Ha Nhi, Phu La, White Hmong…
We will spend the afternoon discovering the mountainous landscapes and small villages surrounding Y Ty and on the way back to Muong Hum home some of my favorite rice terrace landscapes from the whole north Vietnam mountains.
Dinner and night at our Giay ethnic friend's home.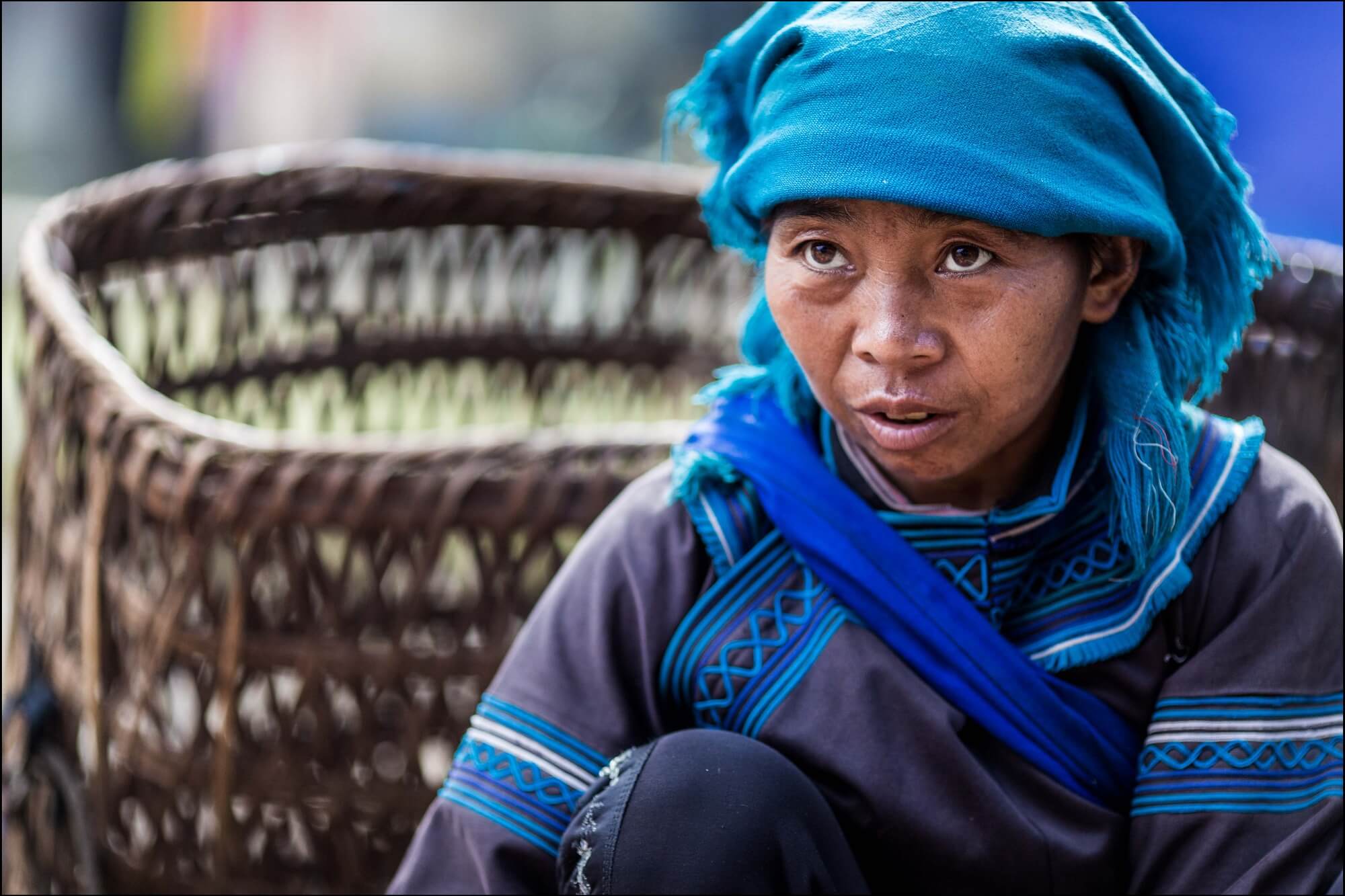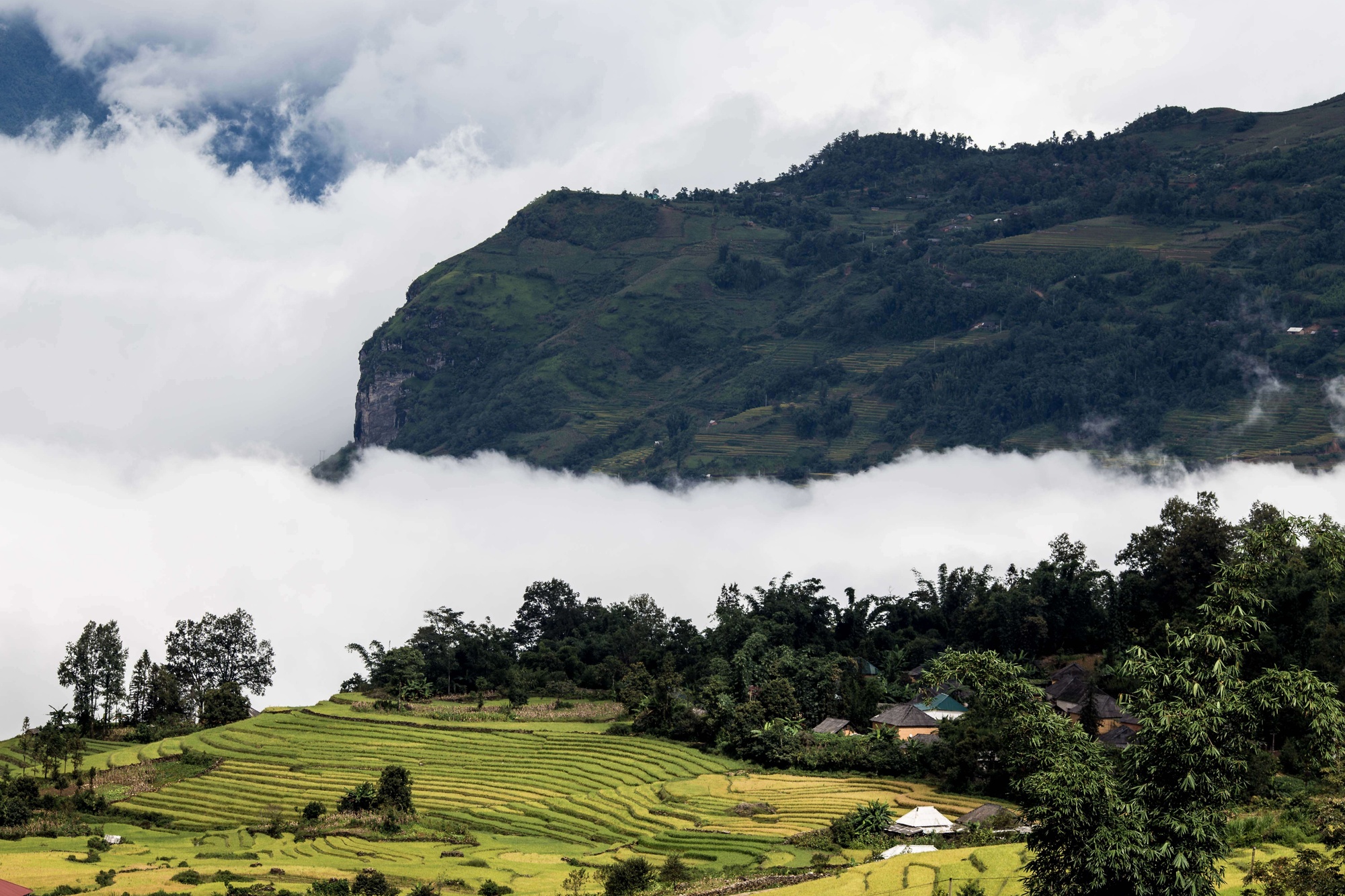 Day 12
● Muong Hum ▸ Ta Van (Sapa valley)
● 3 hours' travelling / 5 hours of photography
We will wake up just next to the multicolor market of Muong Hum, which takes place every Sunday. Muong Hun is home to the Giay people, whose women wear flashy, colorful shirts. They are well-tried traders, as they serve as intermediaries between the mountain ethnic groups and the Vietnamese living in the valley. We will meet with many other minorities such as Black Hmongs, Red Dao women wearing their conical hats, Ha Nhi people or White Hmongs.
After the market and a well-deserved breakfast we will take the road to Ta Van nestled in the beautiful Sapa valley.
We will spend our afternoon discovering the amazing Sapa valley trekking through the rice fields to the Lao Chai village Hmong village.
Dinner and night at our homestay.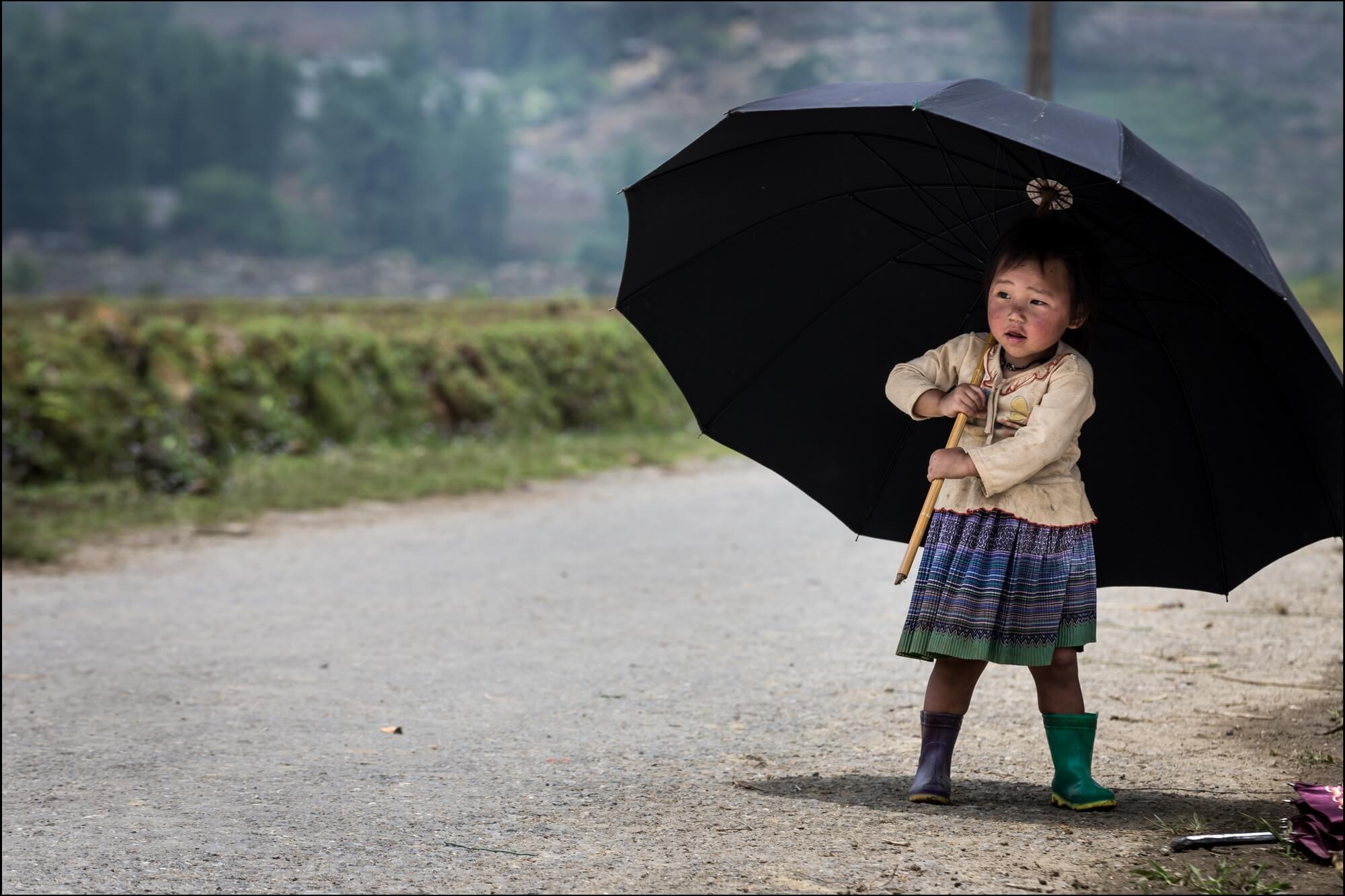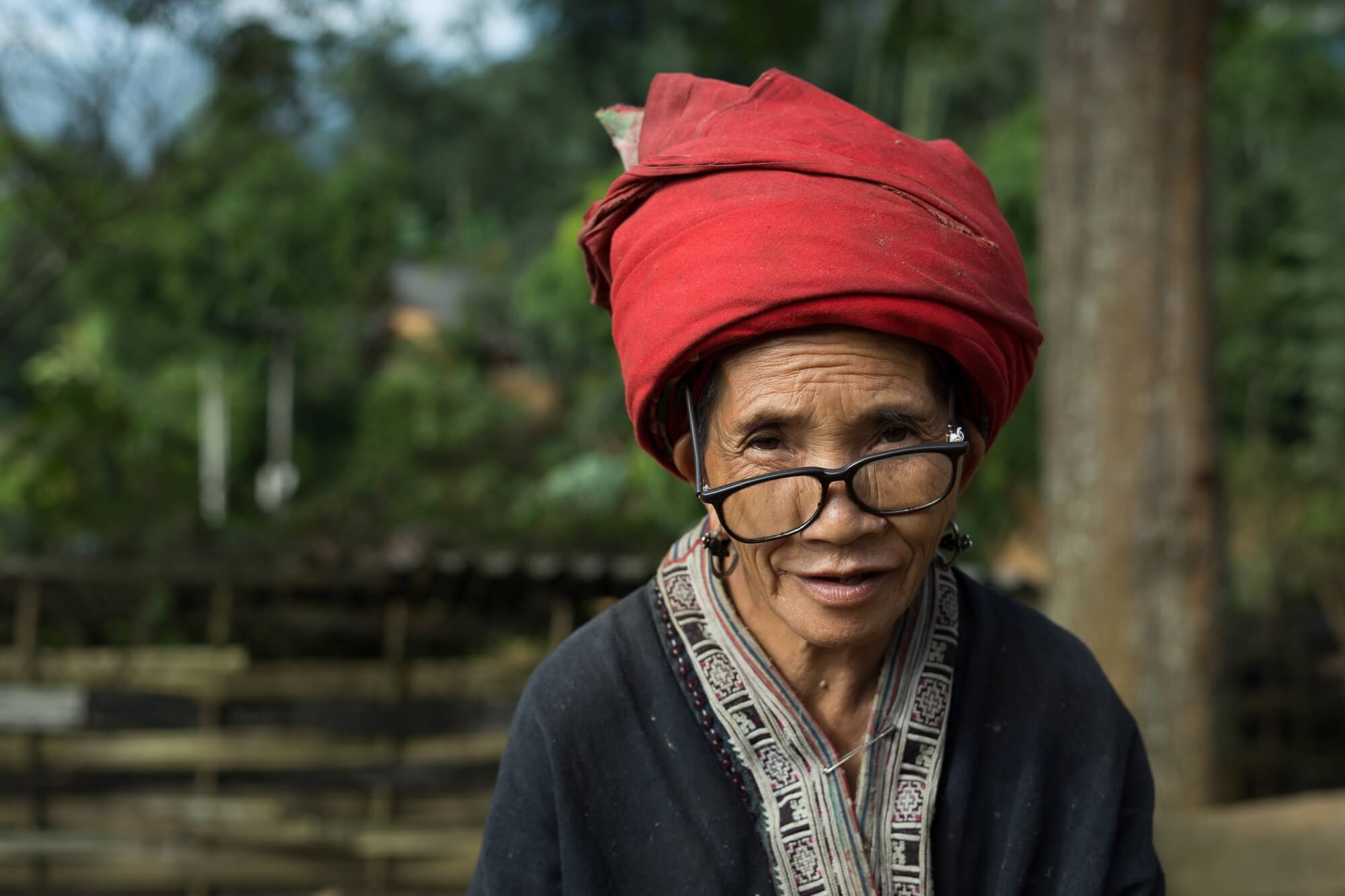 Day 13
● Ta Van (Sapa valley), sunrise, harvesting, photo review, harvesting and sunset
● Photo Editing, Lightroom processing and photo review / 5 hours of photography
A day enjoying the beauties of the Sapa valley embedded by mountains carved with rice terraces and it's people at work, this time further way to the Ban Ho village of the Tay ethnic. We will also enjoying editing and doing our first photo review.
Dinner and night in our homestay.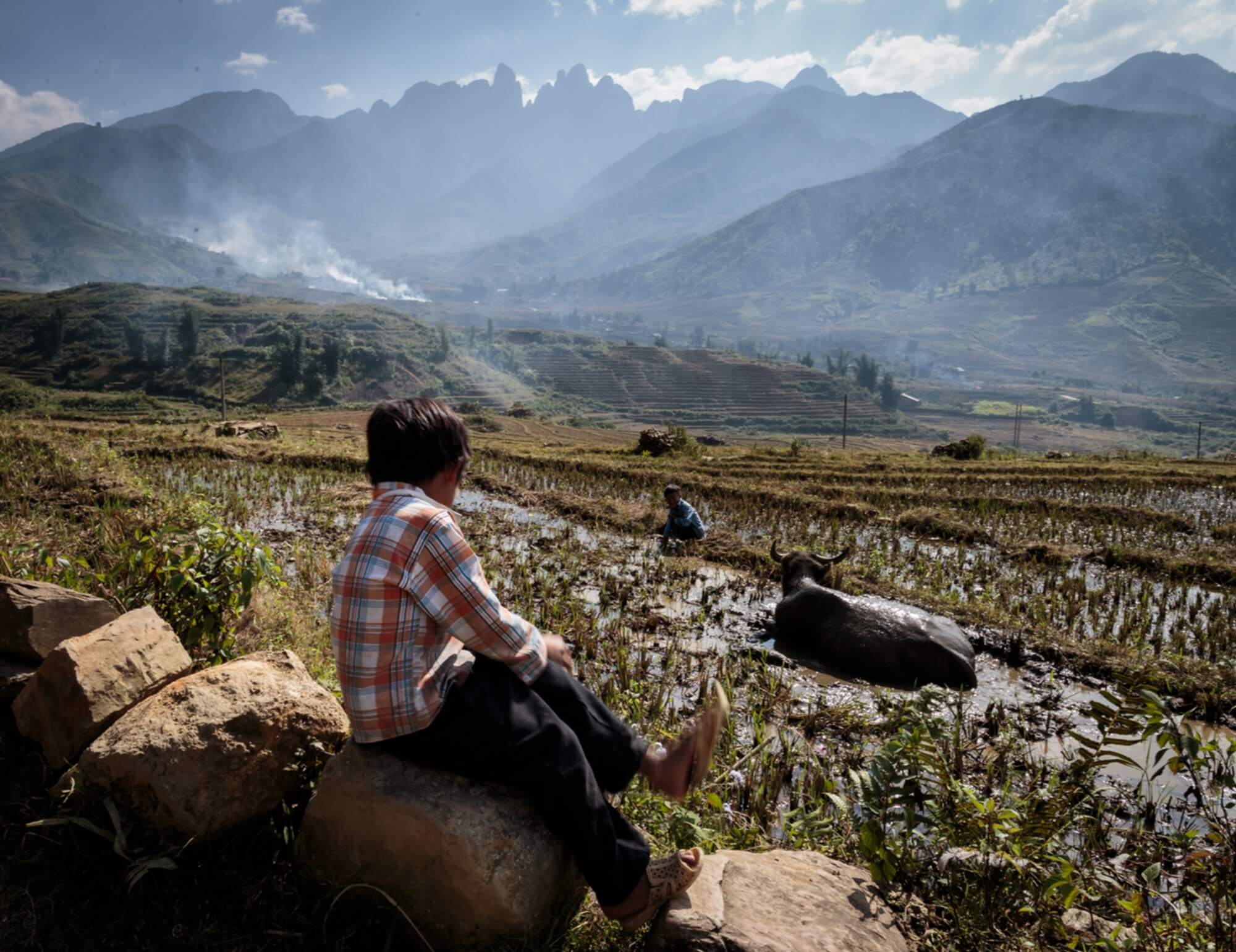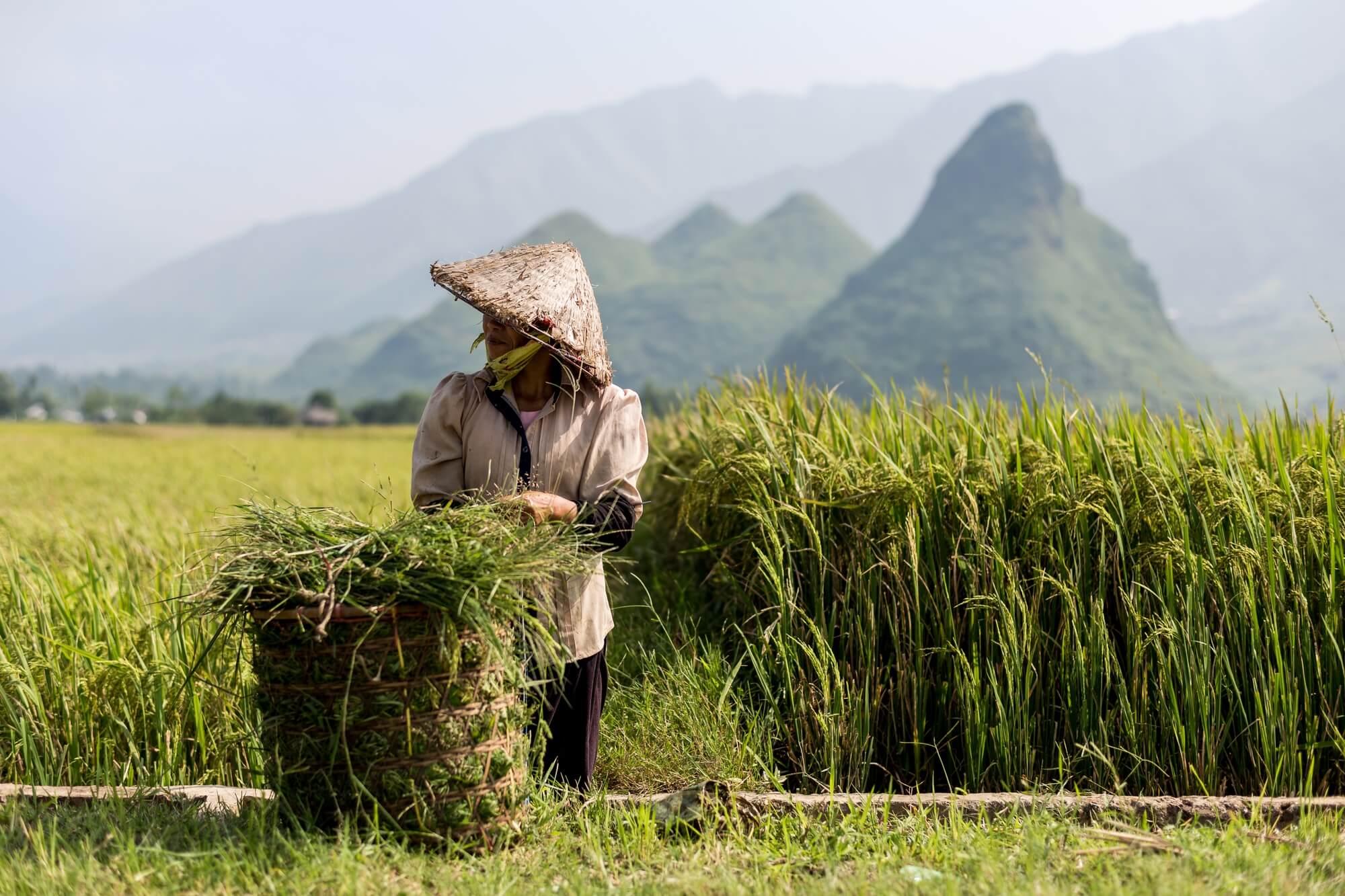 Day 14
● Ta Van ▸ Than Uyen
● 4,5 hours' travelling / 5 hours of photography
We will head for Than Uyen by going through the plains formed by Nam Na River.
The road from Sapa to Than Uyen is superb, meandering through hills covered with tea bushes until reaching Tram Uyen passage, dominated by Fansipan Mountain, culminating at 3143m. We will make numerous stops along the way to capture these magnificent landscapes.
In the late afternoon, we will stop in a traditional Thai village overlooking a large rice field and surrounded by enormous bamboos groves.
Dinner and night in Than Uyen.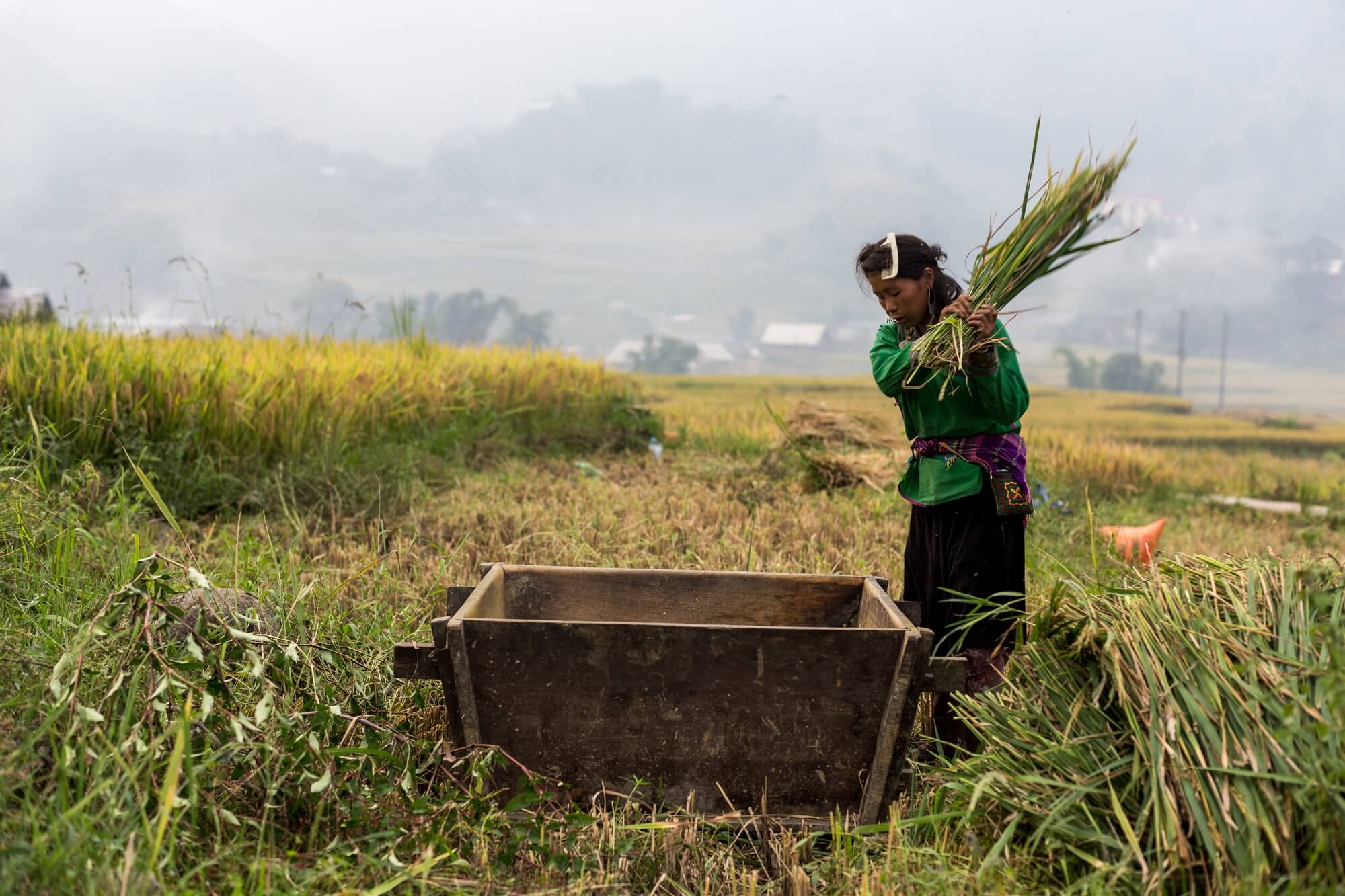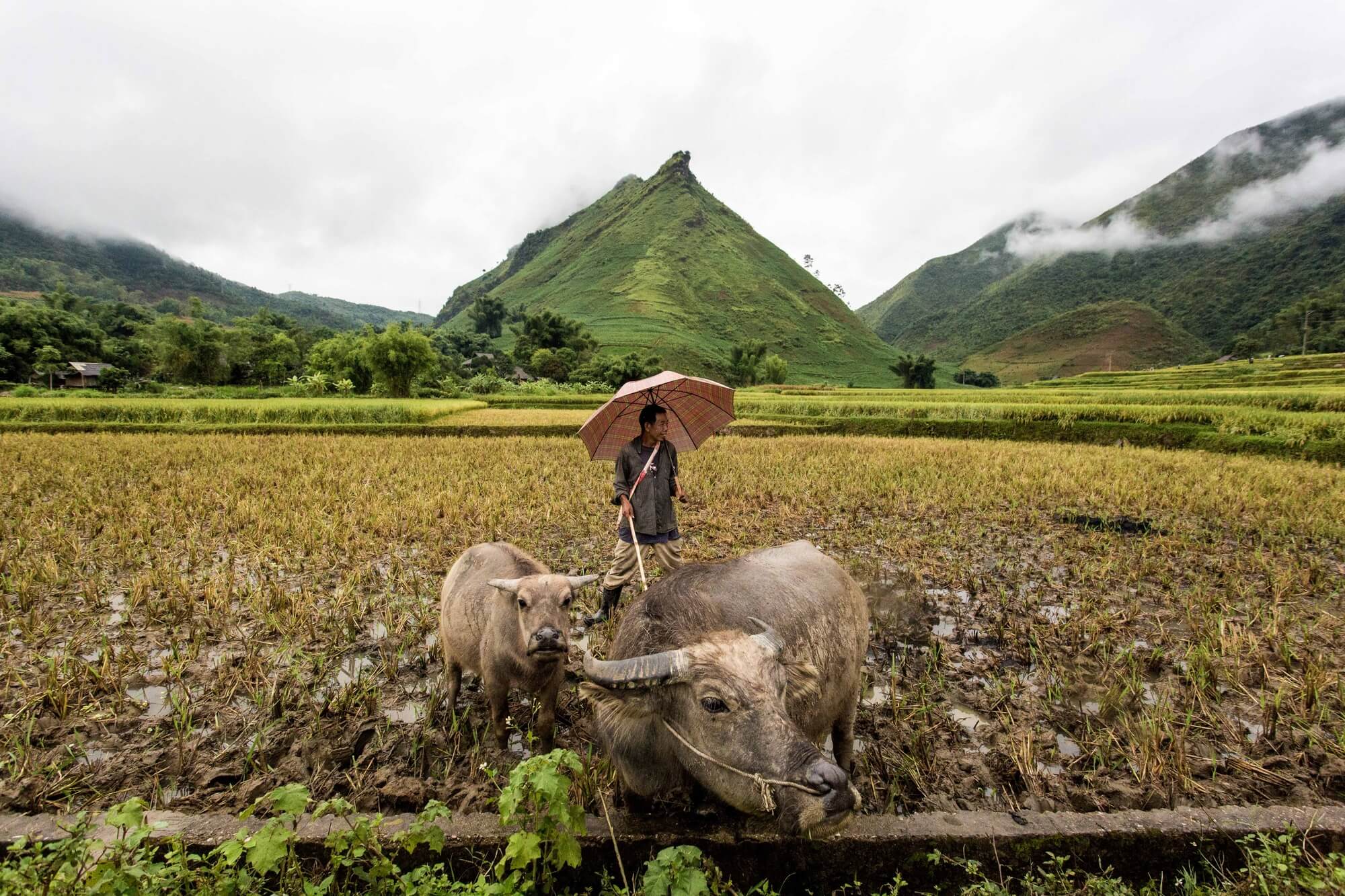 Day 15
● Than Uyen ▸ Mu Cang Chai
● 1,5 hours' travelling / 5 hours of photography
This morning we will leave Than Uyen very early to catch the first ray of lights over the magnificent of one of the spots of which we have the secret. A mountain whose entire flan is carved by literally dozens of rice terraces, carved over the last century that form a unique cascade of greenery. We will then explore the Lao Chai village before continuing our journey to Mu Cang Chai.
In the afternoon we will begin the discovery of the beauties of the Mu Cang Chai region climbing up to the Man Xoi viewpoint.
Dinner and homestay with a Thai family.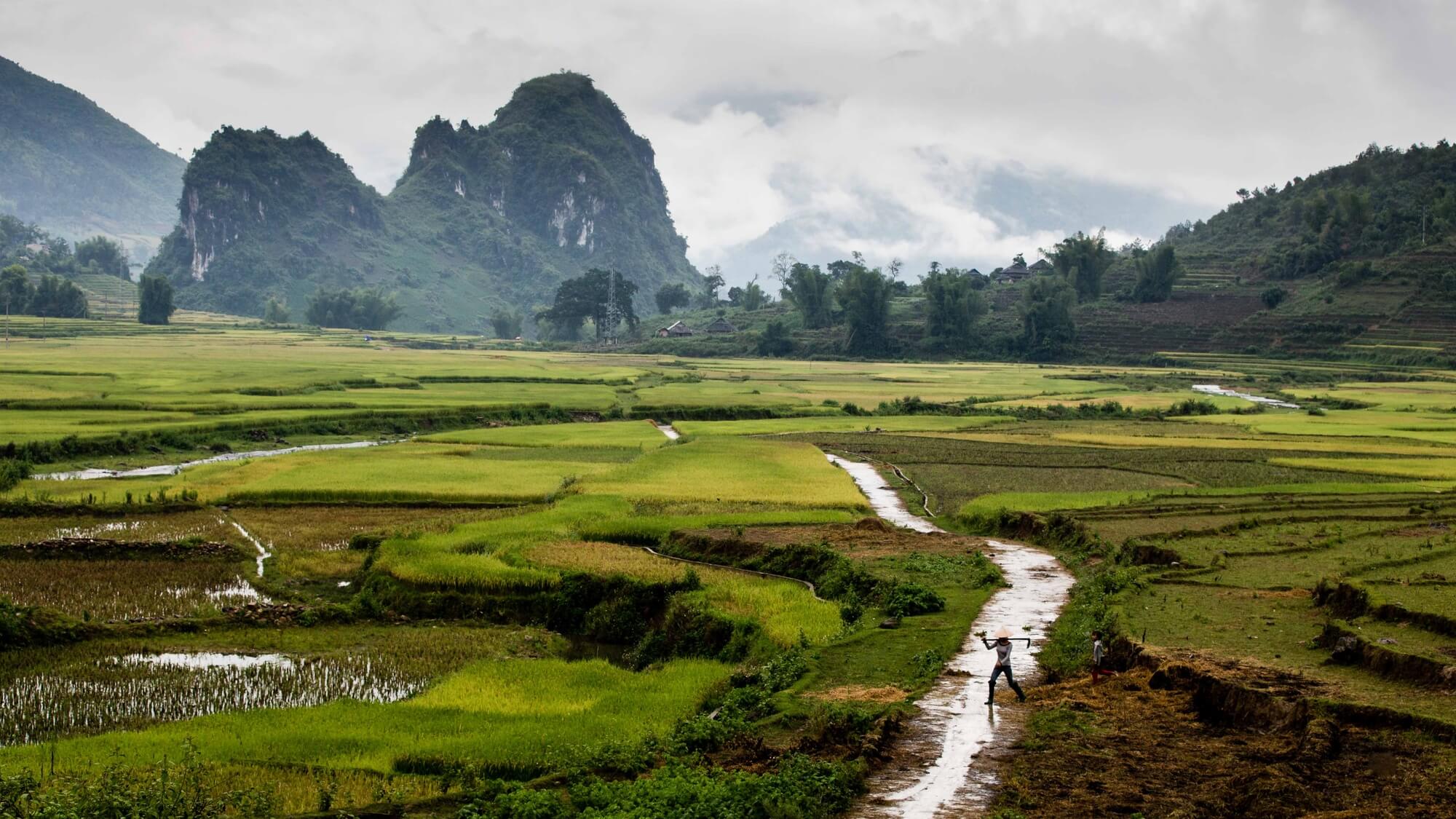 Day 16
● Mu Cang Chai, rice terrace paradise
Mu Cang Chai holds some of the most impressive rice terraces in the country and is listed as a Vietnam National Heritage site. Throughout the day, we will have plenty of occasions to observe the H'mong people going about their daily lives and working in the fields.
In the morning, we will visit Ze Xu Phinh are, and in the afternoon the La Pan Tan "Rice Canyon". If the time permits, we will also visit the beautiful rice fields of Che Cu Nha.
Dinner and homestay with a Thai family.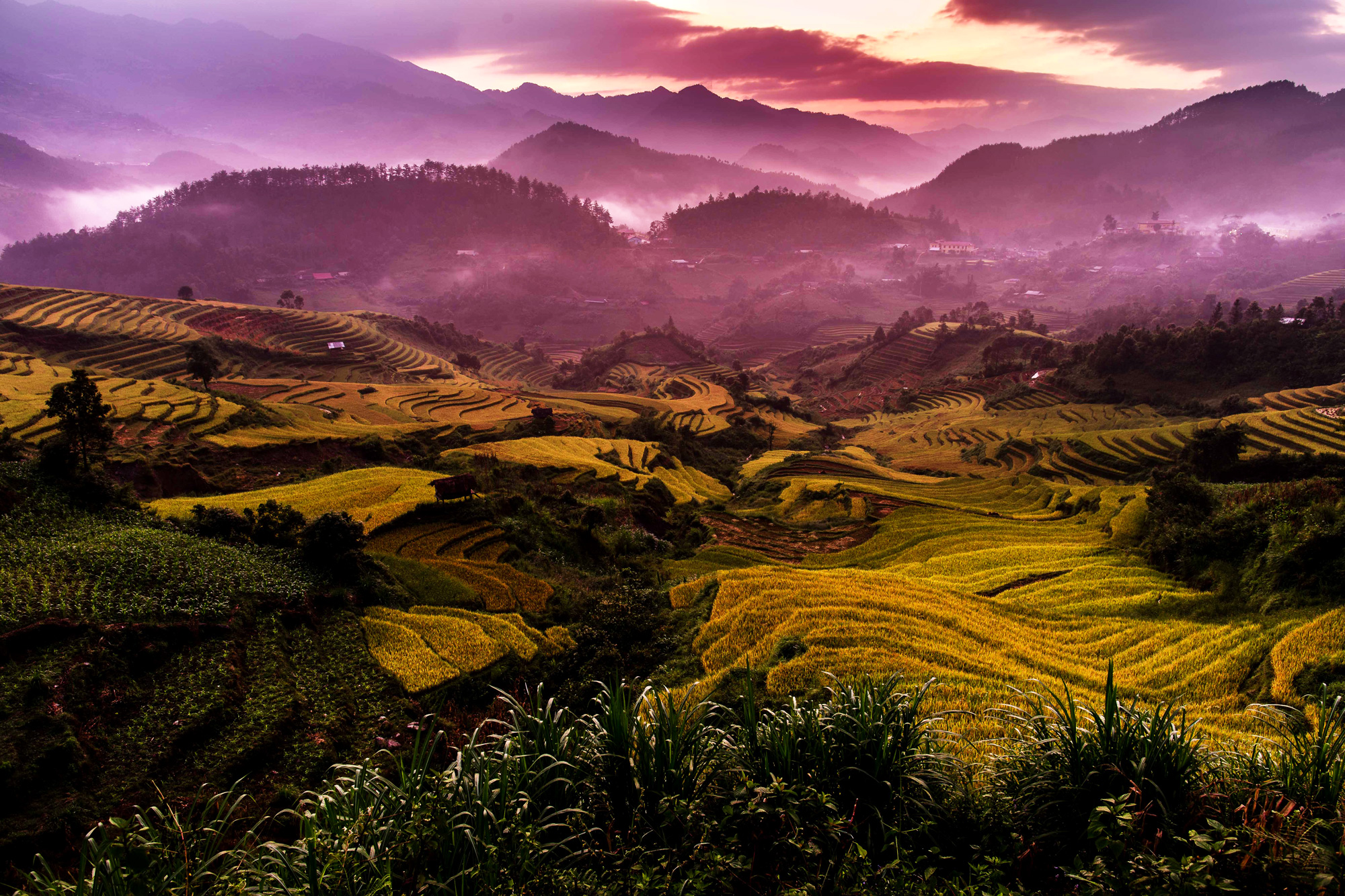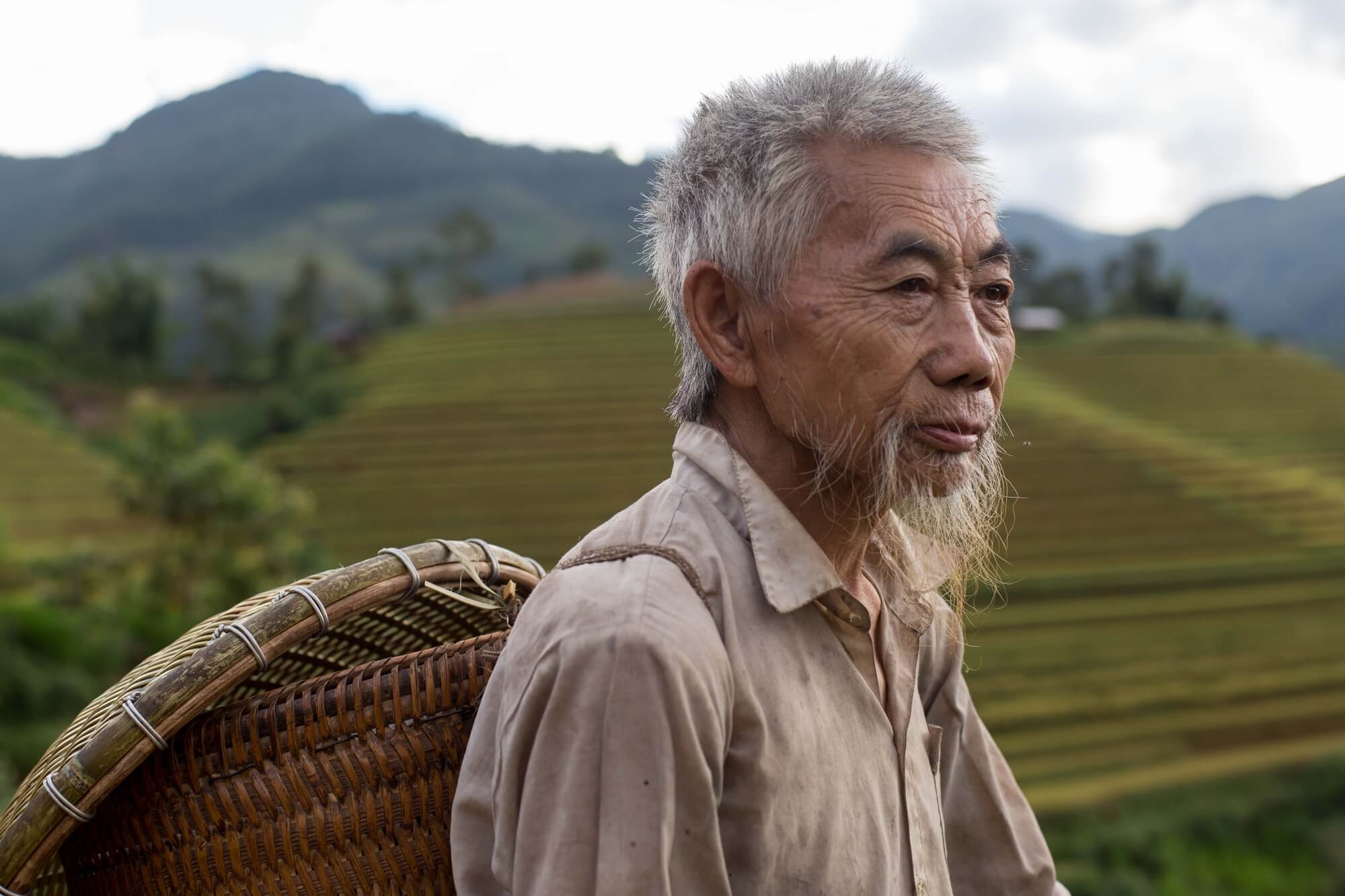 Day 17
● Mu Cang Chai ▸ Duong Lam ▸ Hanoi
● Last photo review / 7 hours' travelling / photography stops
This morning we will do our last photo editing session, followed by the final photo story presentations before heading back to Hanoi. Before reaching Hanoi we will visit the traditional village of Duong Lam with its two-century old houses, reflecting how the Red River villages used to look like in the past.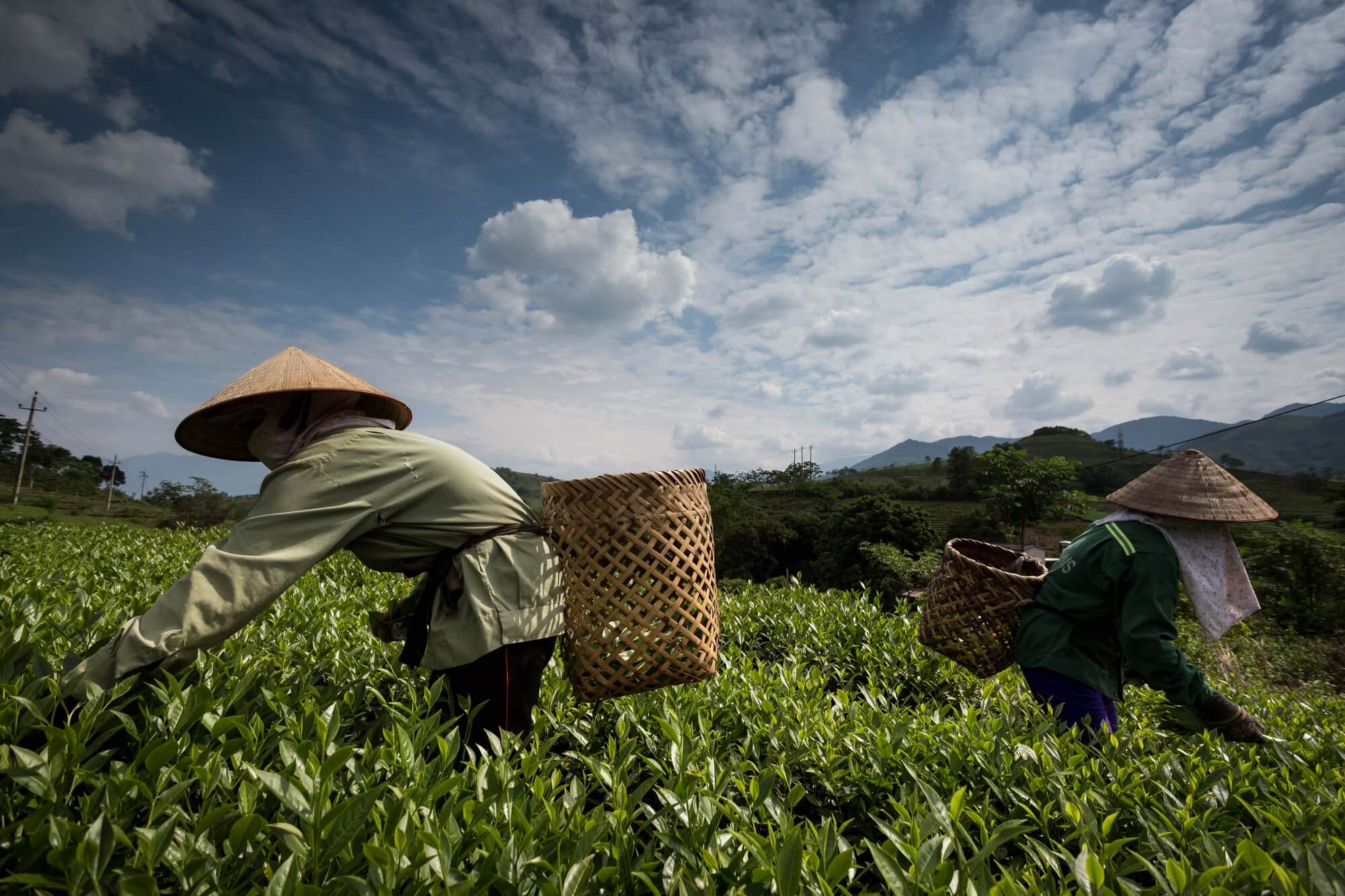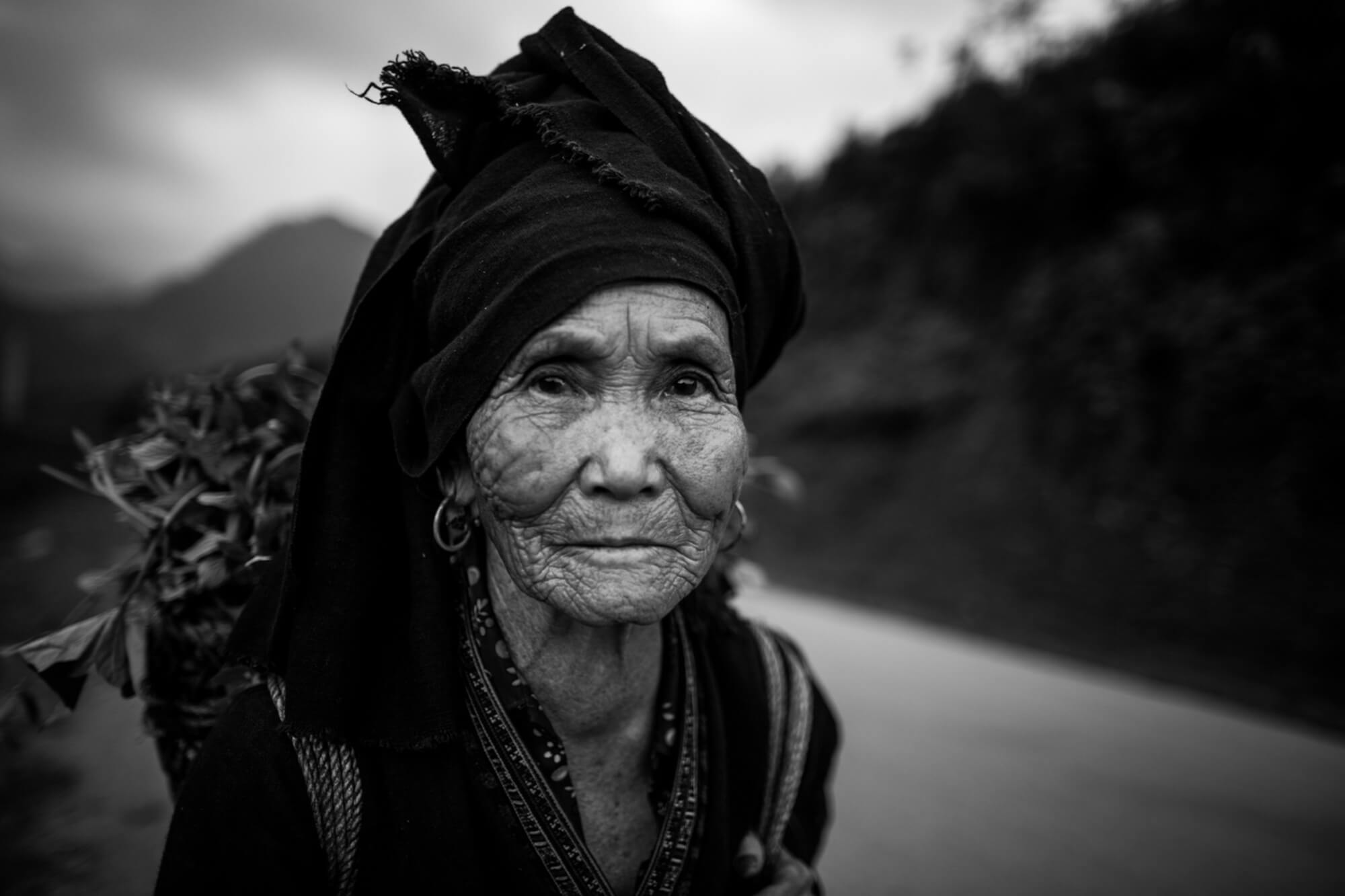 Day 18
● Hanoi, one of Southeast Asia most exciting capital – End of the adventure
We will start the day at the Long Bien Bridge designed in 1899-1902 by Daydé & Pillé French architects. Reserved for two-wheeled vehicles and pedestrians, as well as the train passing in its center, overcrossing the Red River this bridge is taken every morning by thousands of provincials coming to sell their products in the city, or on the Long Bien market situated just underneath it. We will then go walk around Hoan Kiem Lake, where Hanoians enjoy doing their physical exercises, and continue our exploration in the bustling 36 old streets and guilds of the old quarter. We will then the walk along the railway tracks witnessing the Hanoian's daily life punctuated by the passage of the famous reunification train.
Last lunch together
End of the tour.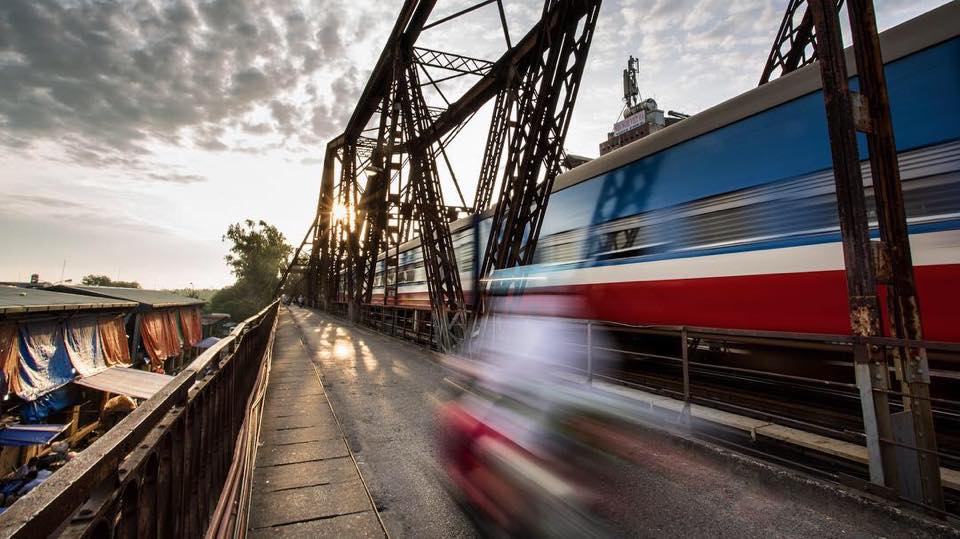 THE RICE TERRACE HARVEST TRAILS
Testimonials
Tour Details
Price: US$5890 / person
Tour Dates:
– 1 to 16 September 2022
– 31 August to 15 September 2023
– 29 August to 13 September 2024
Duration: 16 days / 15 nights
Group Size: 6 persons max.
Level: Beginners to Advanced
Includes
Ecolodges in Quan Ba and Hoang Su Phi
A comfortable 3* hotel in Dong Van
Auberge de Meo Vac eco-resort
Lodge or Homestay in Ha Giang
1* hotel with confortable room in Bac Ha
Homestay or Lodge in Y Ty
Homestay in Muong Hum and Ta Giang Phinh
Guesthouse in Than Uyen
Ecocoldge or Homestay in Mu Cang Chai
Private air-conditioned transportation
Meals and non-alcoholic beverages throughout the tour
Snacks and water during excursions
Sites entry fees (if applicable)
Excludes
International/domestic flight to arrive and depart from Hanoi
Airport transfers on arrival and departure
Entry Visa to Vietnam
Travel insurance (please make sure you are insured)
Alcoholic beverages
Personal expenses
Tips
Optional
Single room accommodation (when possible): +US$490
General Information
Who are our tours designed for?
Anyone who loves travel and photography is welcomed, whatever your level of experience – the most important thing is enthusiasm. Our tours can be summed up in three words – sharing, friendship and smiles. Your non-photographer friends & family are also welcomed to join – as long as they don't mind hanging around while the photographers do their thing!
Improve your photography!
With Arnaud's advice and guidance, you'll quickly become more familiar with your equipment and refine your eye for a good image without being swamped by technical details. You'll learn how to read light, how to compose a shot, and how to tell a visual story – in short, you'll release more of your creative potential.
Mastering photography is a long and enjoyable journey, and one without end. The main objective of our tours is for you to become a better photographer by the end of each day.
The best camera is the one you already have! Travel light – a DSLR with wide angle and zoom lenses is more than sufficient for our tours. Hybrids, compacts and even smartphones are equally welcome! Other than that, all you'll need is a fully-charged battery and enough memory cards. If you can, bring along your laptop so we can critique your photos and also show you a few tips for using Lightroom.
You'll get to meet the local population, find out about their way of life, and experience their friendly company – all while taking some fantastic photos! We'll show you how to break the ice with the Vietnamese and how to make your camera a valuable ally in making connections with them.
We don't impose strict itineraries on our travelers; every one of our journeys in Vietnam is unique – no two tours are ever the same! Spontaneous encounters and varying light conditions create different photography opportunities every time. One moment you'll be standing on the edge of a rice field photographing a farmer at work; the next you'll be invited into a local house for tea; or maybe you'll be navigating your way along a narrow canal by sampan or a country lane on the back of a motorbike – most of the time we'll just go with the flow!
Our maximum group size is six. This enables us to give every photographer plenty of individual attention, and also makes it easier for us to blend into the environment and not be overly intrusive when we're meeting the locals.
Your Host - Arnaud Foucard
A keen photographer of landscapes and people, Arnaud leads photography tours in the Mekong Delta and other beautiful places in Vietnam. Before becoming a photographer he spent ten years in Vietnam as a tour operator and knows the country intimately. Photography has always been his passion, and so one day he decided to turn that passion into a living – now he devotes his time to helping fellow photography enthusiasts discover little-known and picturesque parts of Vietnam, while improving their photographic skills.