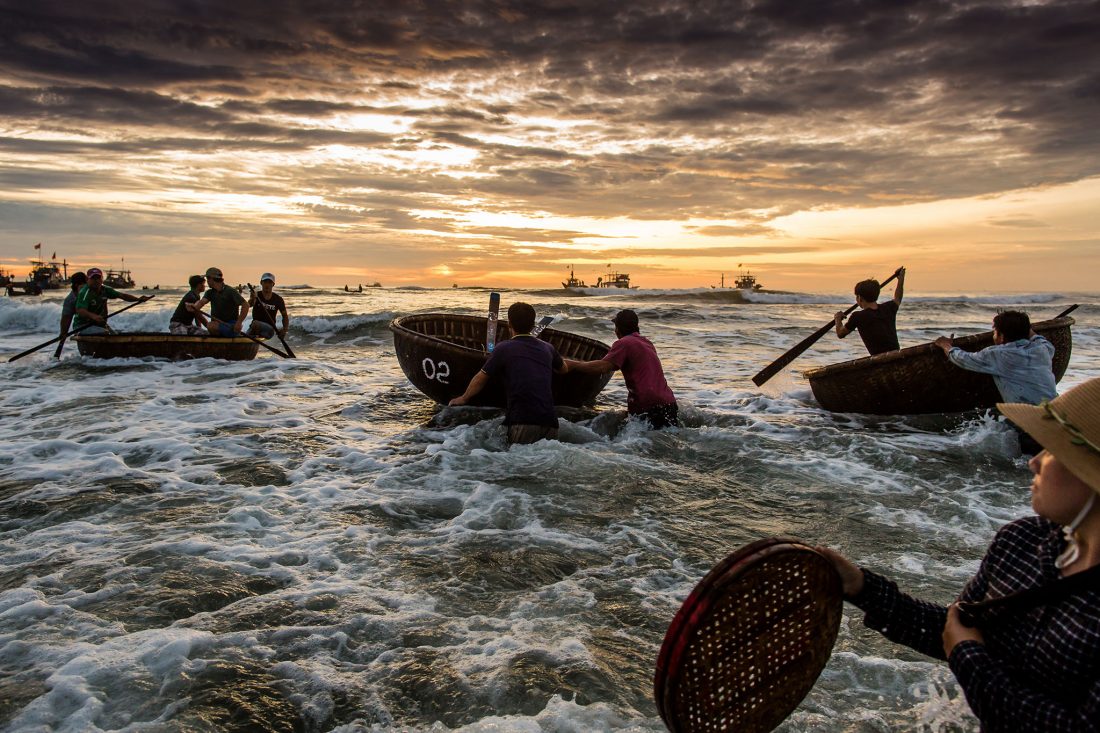 CENTRAL VIETNAM: LIFE BY THE COAST
Price: US$1790 / person
Tour Dates:
– 11 to 15 June 2022 & 27 to 31 August 2022
– 10 to 14 June 2023 & 25 to 29 August 2023
Duration: 5 days / 4 nights
Group Size: 6 persons max.
Level: Beginners to Advanced
Tour starts in Hoi An (35 km South of Danang airport – Central Vietnam)
Tour finishes in Danang and Hoi An (or in Hue if your trip get you there)
Tour Highlights
Street Photography Workshop in Hoi An Old Town
Hoi An Hidden Fishing Villages
Hai Van Pass Landscapes
Sunset over Lang Co Lagoon
Phu Loc Lagoon Fishermen Daily Life
Truly magical and mystical, Central Vietnam is one of the most scenic corner of the peninsula. Embark on a journey bustling with photographic opportunities: the UNESCO world heritage Hoi An ancient port, charming coastal fishing villages and markets, unique square fishing nets overhanging river, South-East Asia's largest lagoon's fishing activities…
This five-day intensive workshop encapsulates some of Central Vietnam's most exceptional locations, and offers a chance to capture it's traditional everyday life under the light of gold infused sunrises and sunsets.
With an intimate group size and under the professional guidance of street and travel photographer Arnaud Foucard, this tour is a great opportunity for improving your photography skills and photographic vision, all the while discovering one of the most beautiful region of Vietnam.
Day 1
● Hoi An Old Town & Countryside
● 1 hour travelling / 5 hour photography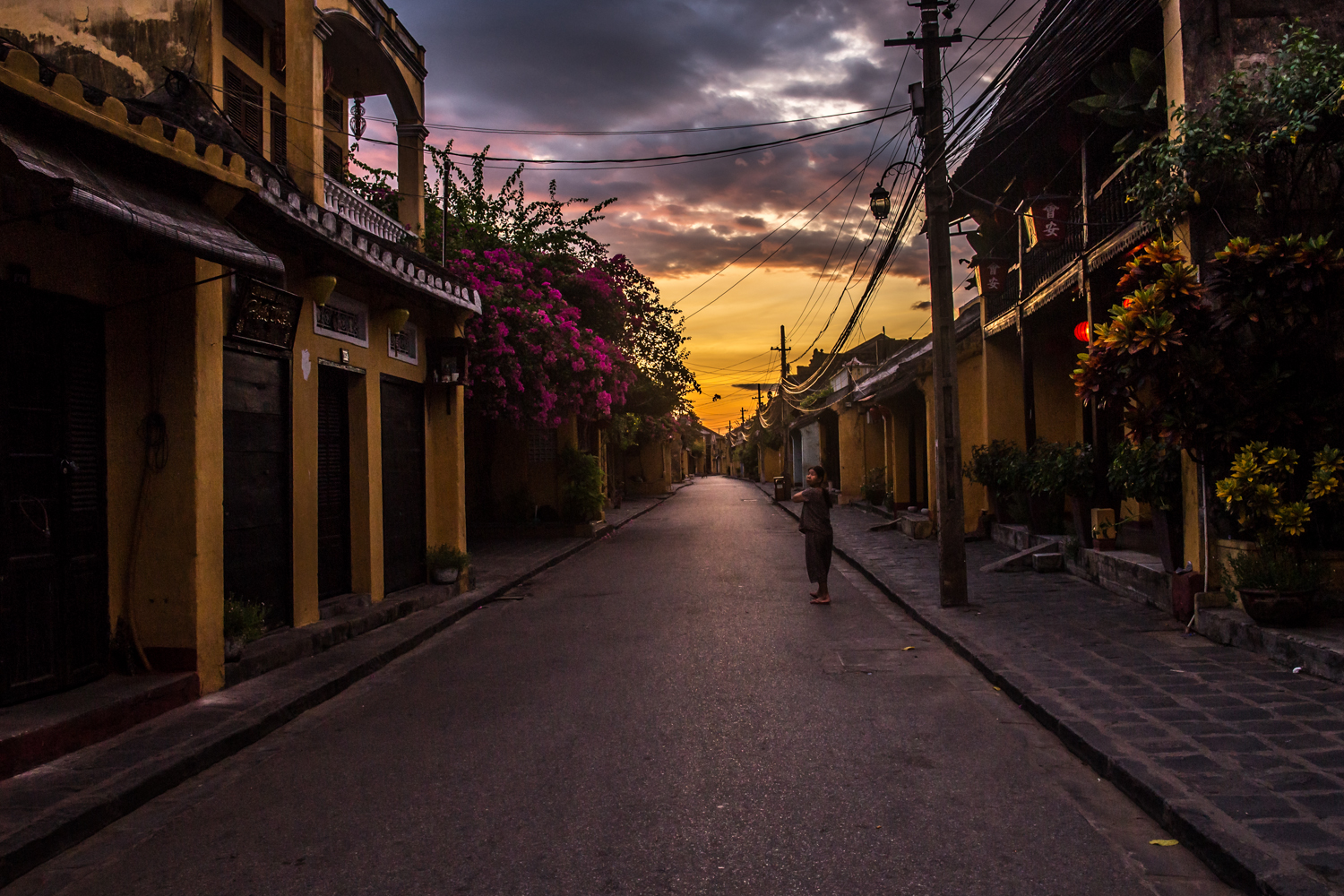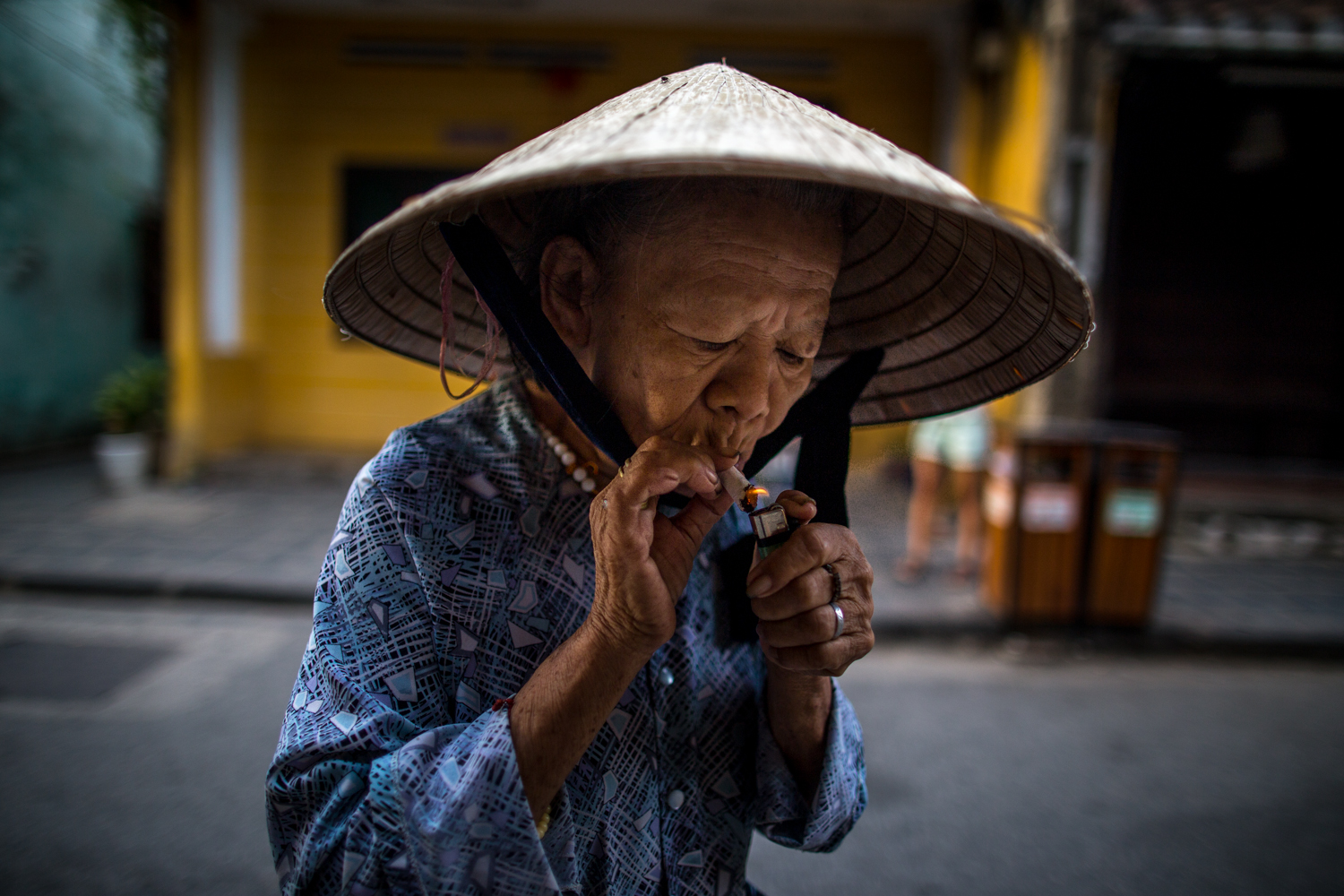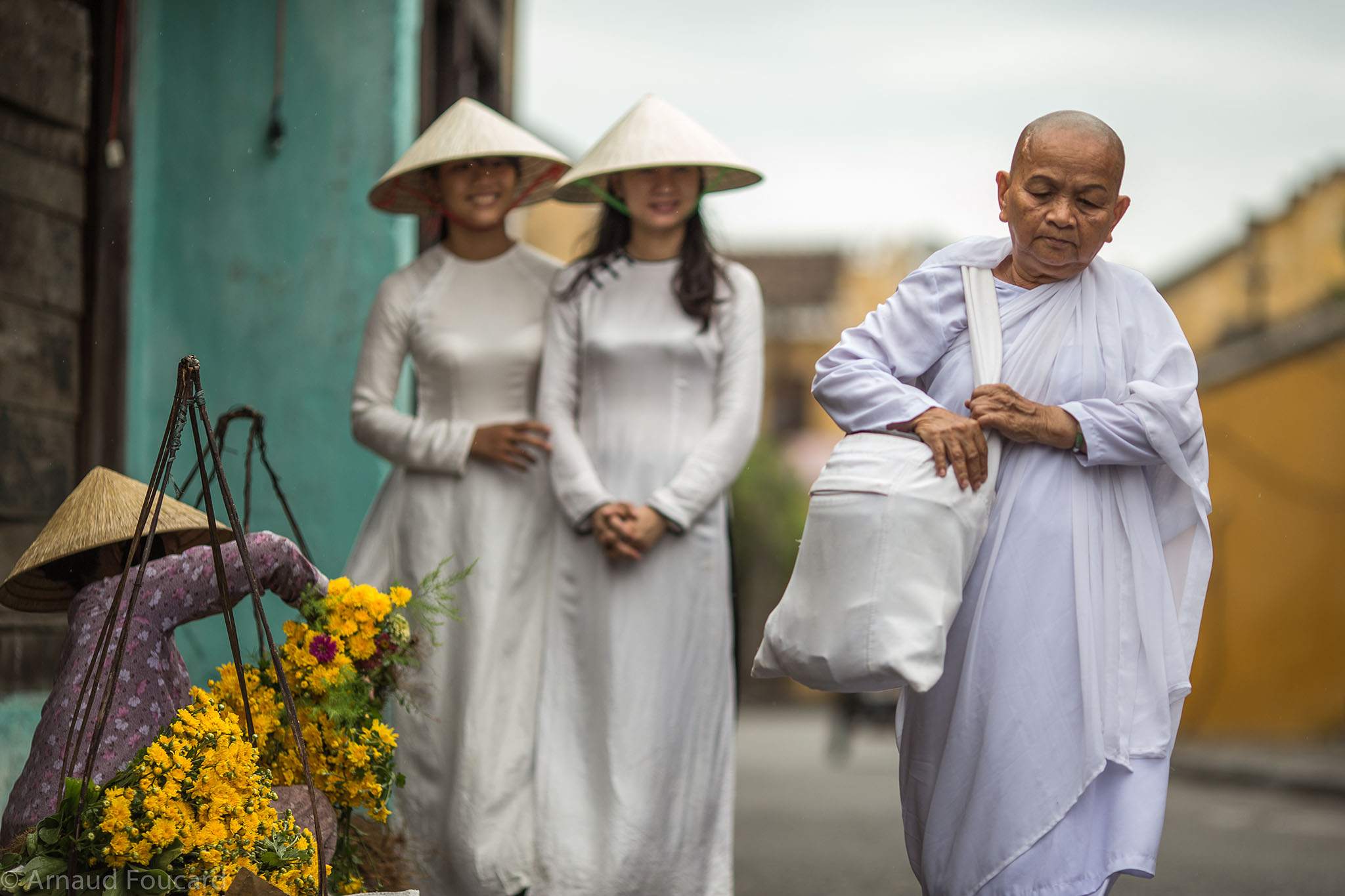 We will start our journey in Hoi An's ancient town at daybreak, with a street photography workshop aimed at composing shots using the city's colourful wall backgrounds, ancient houses shapes and textures.
In the afternoon, we will head to a nearby village to capture Hoi An's charming countryside and the farmers going about their daily activities.
Dinner and night in Hoi An.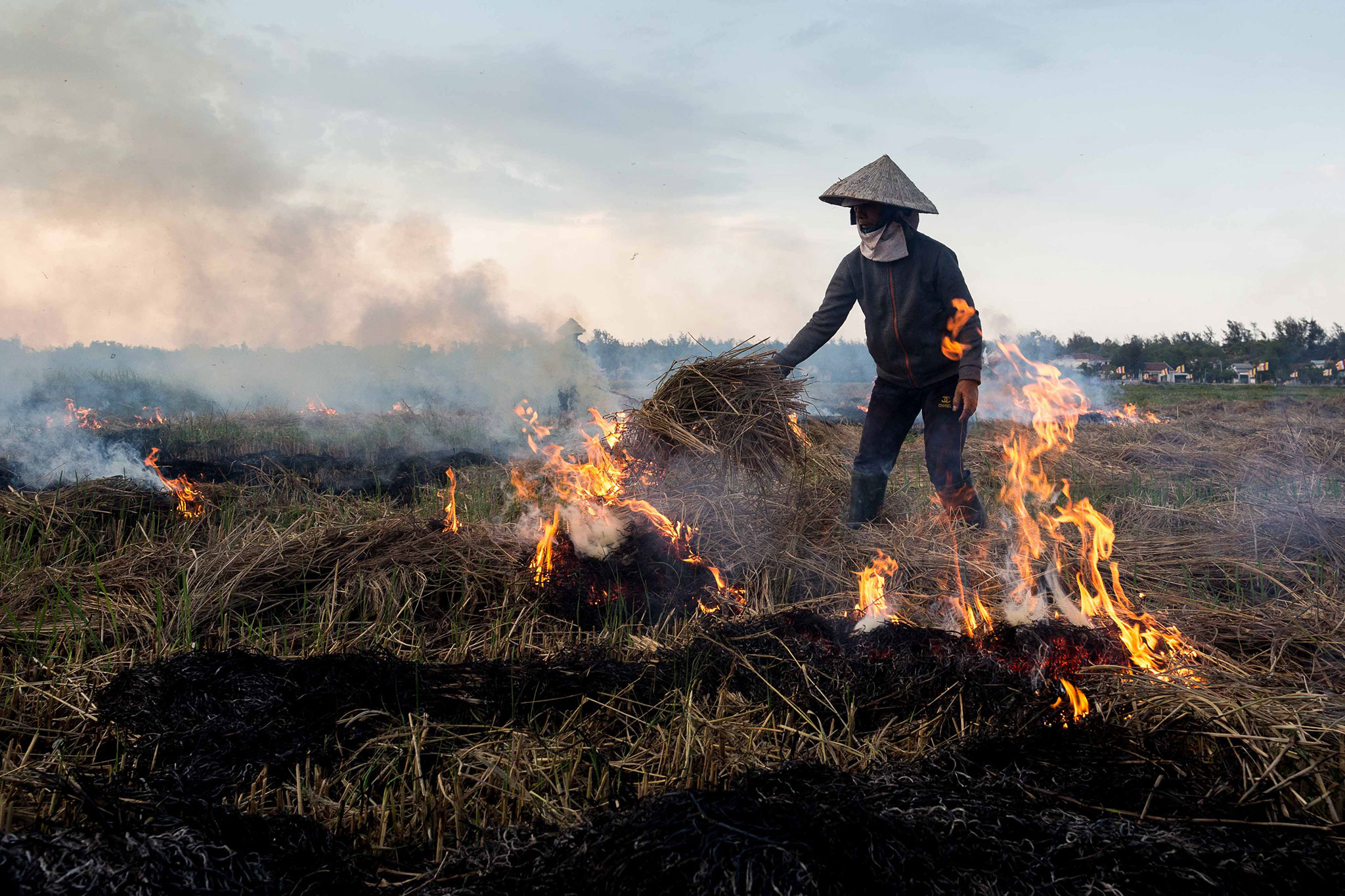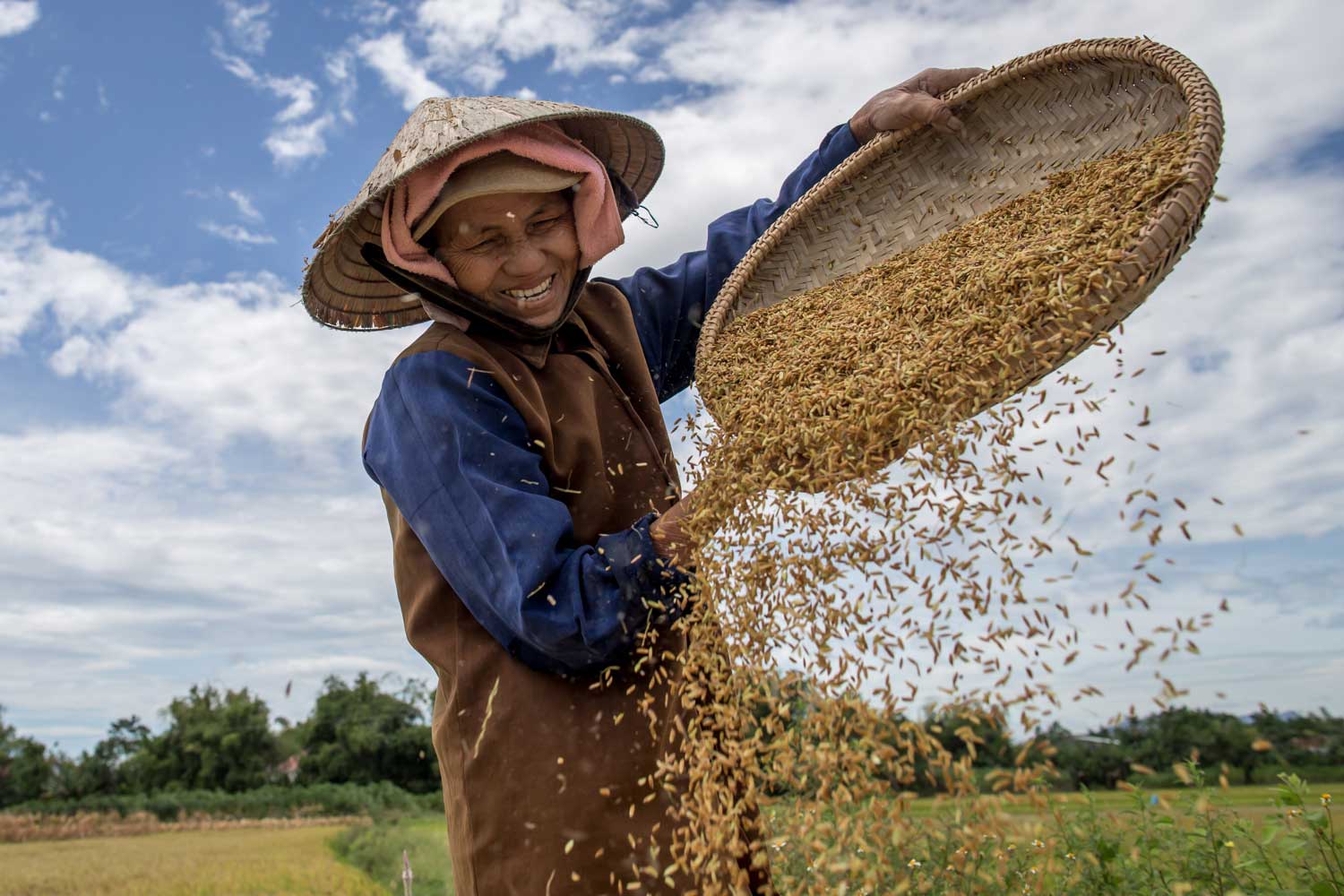 Day 2
● Hoi An Fishing Villages
● 3 hours' travelling / 5 hour photography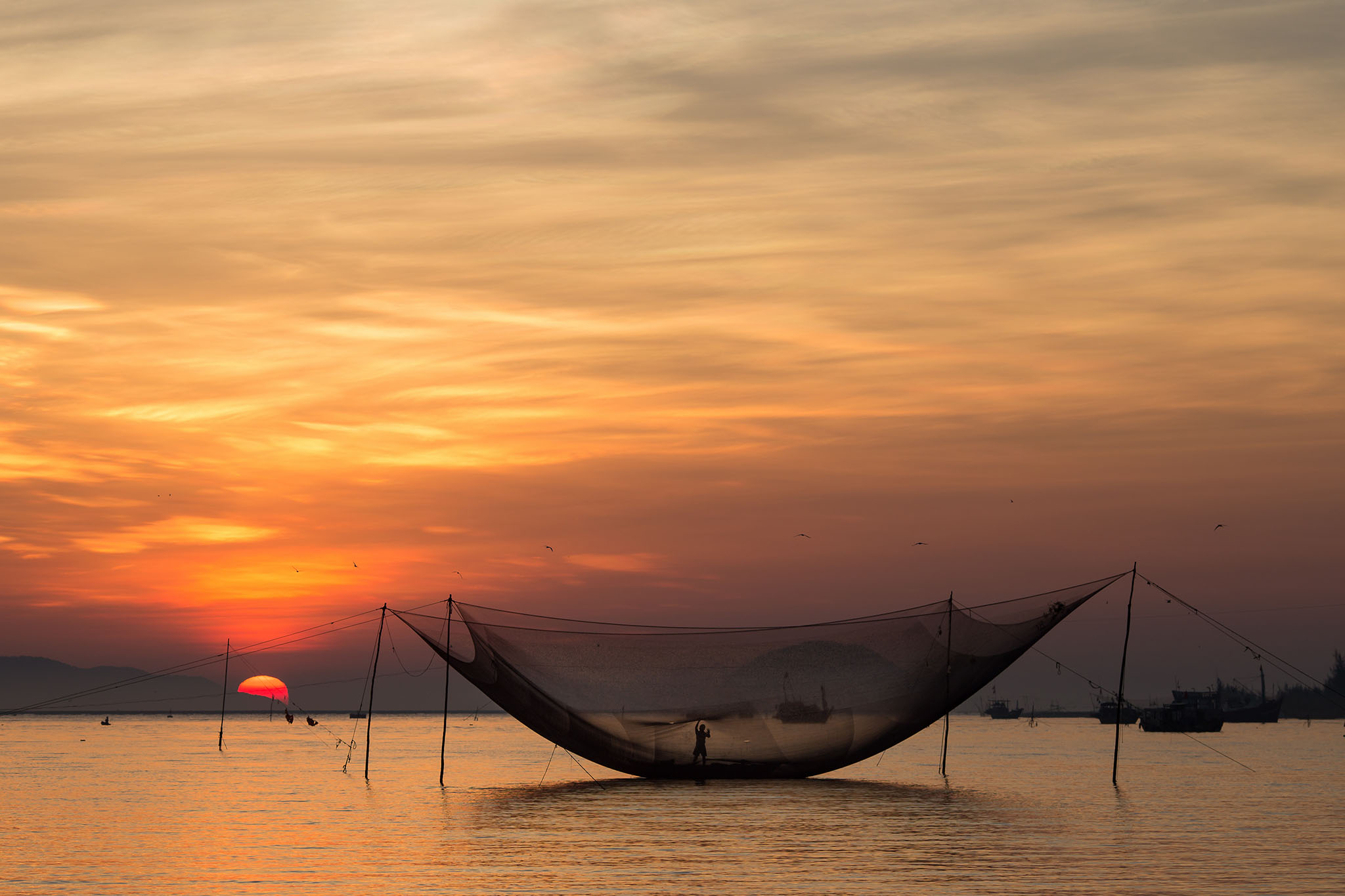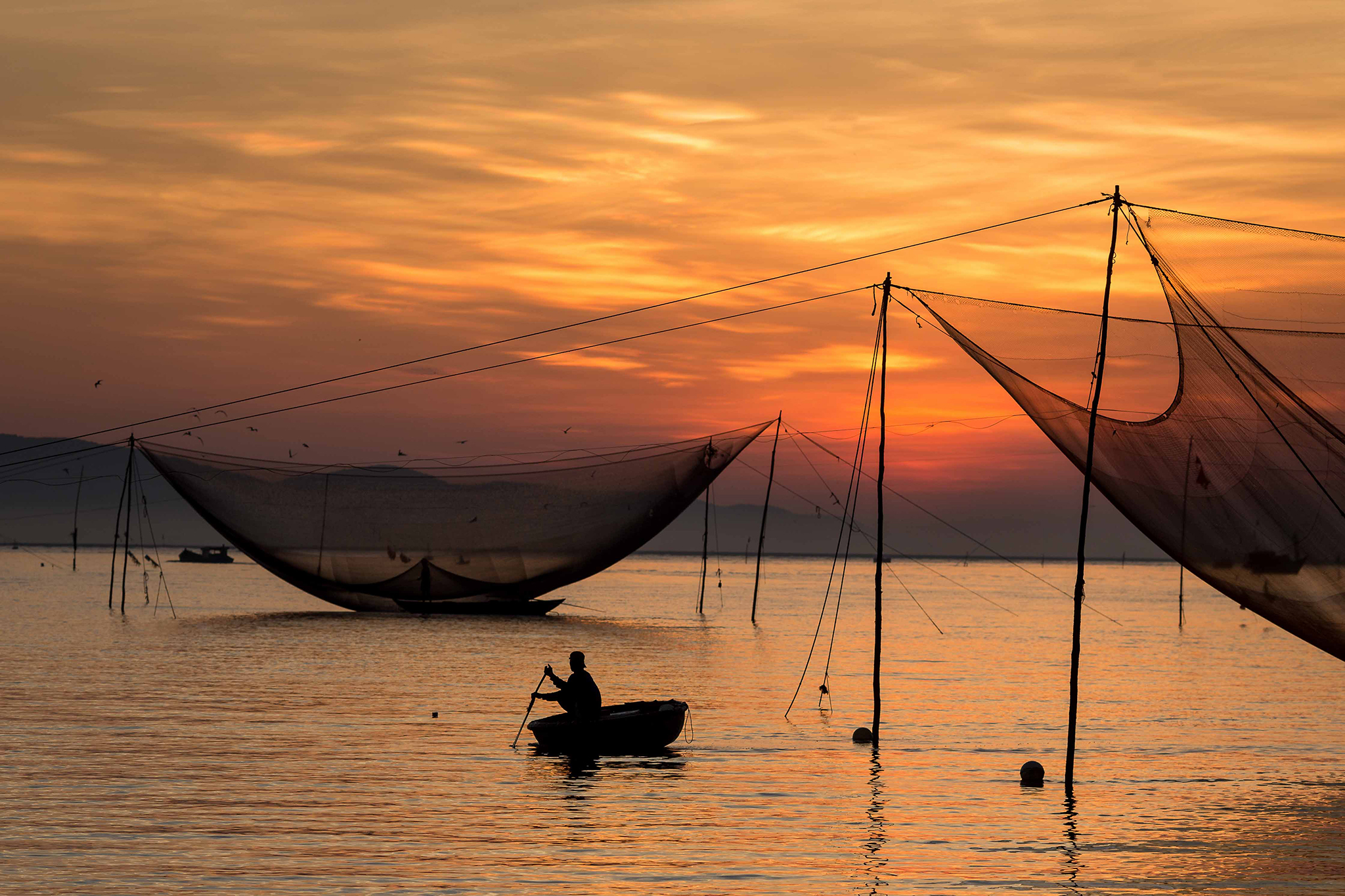 We'll hop on an early boat ride to visit the majestic overhanging square fishing nets, capturing the local fishermen harvesting their night catch at dawn, making for a gorgeous red infused backdrop.
We'll spend the afternoon by the beach with the locals, and visit a typical coastal fishing village.
Dinner and night near Hoi An.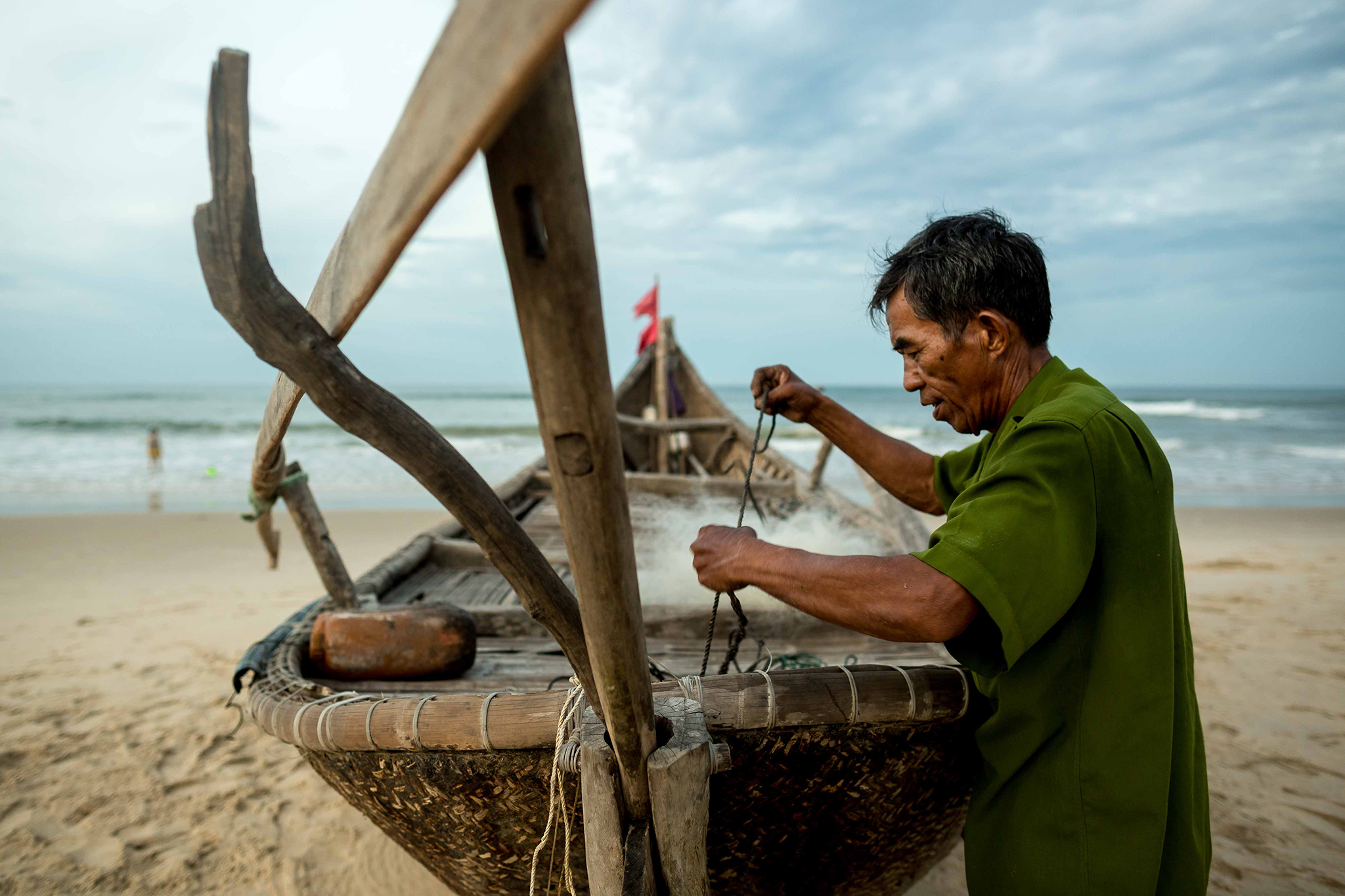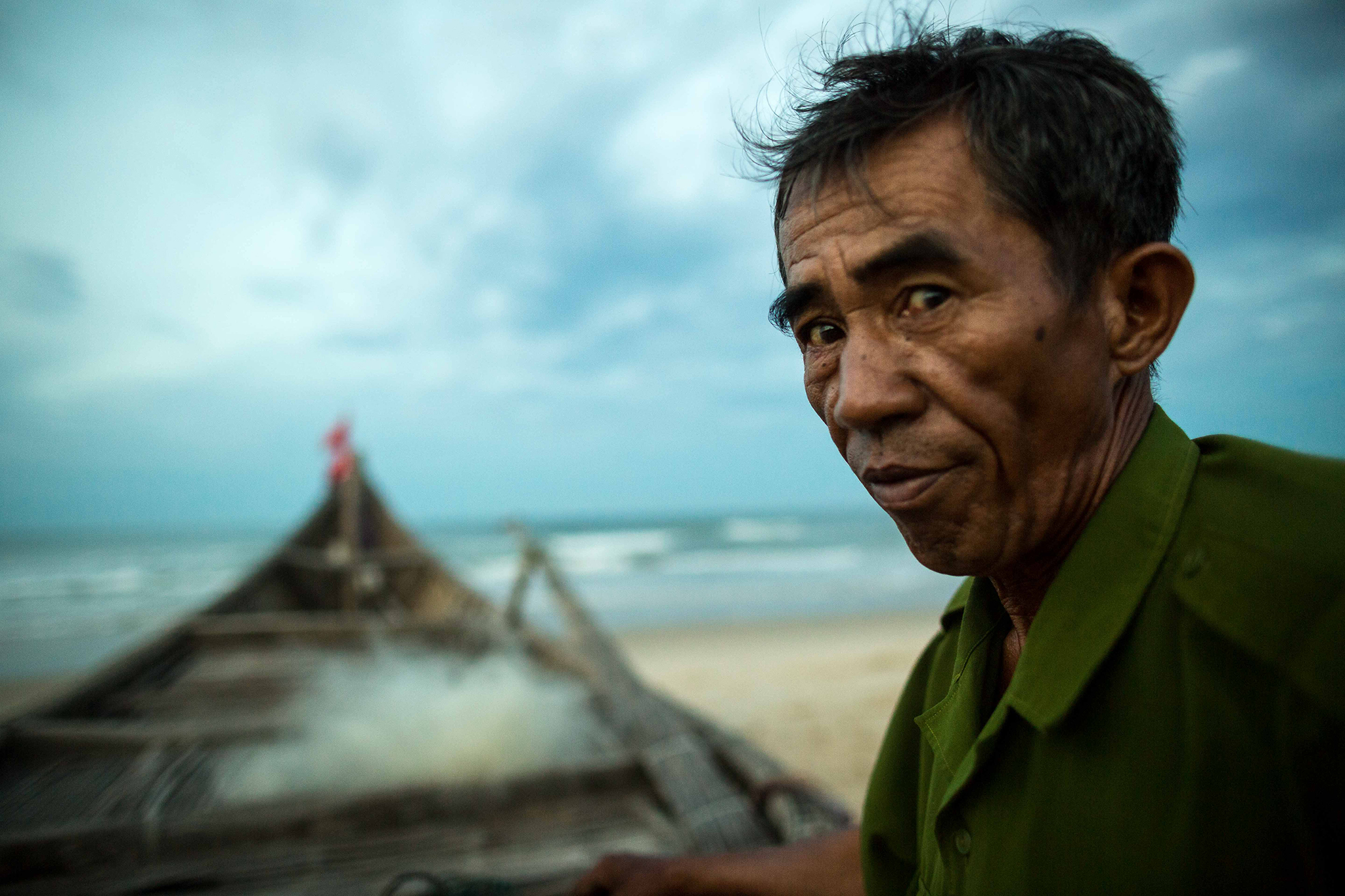 Day 3
● Hoi An ▸ Hai Van Pass ▸ Lang Co
● 3 hours' travelling / 5 hour photography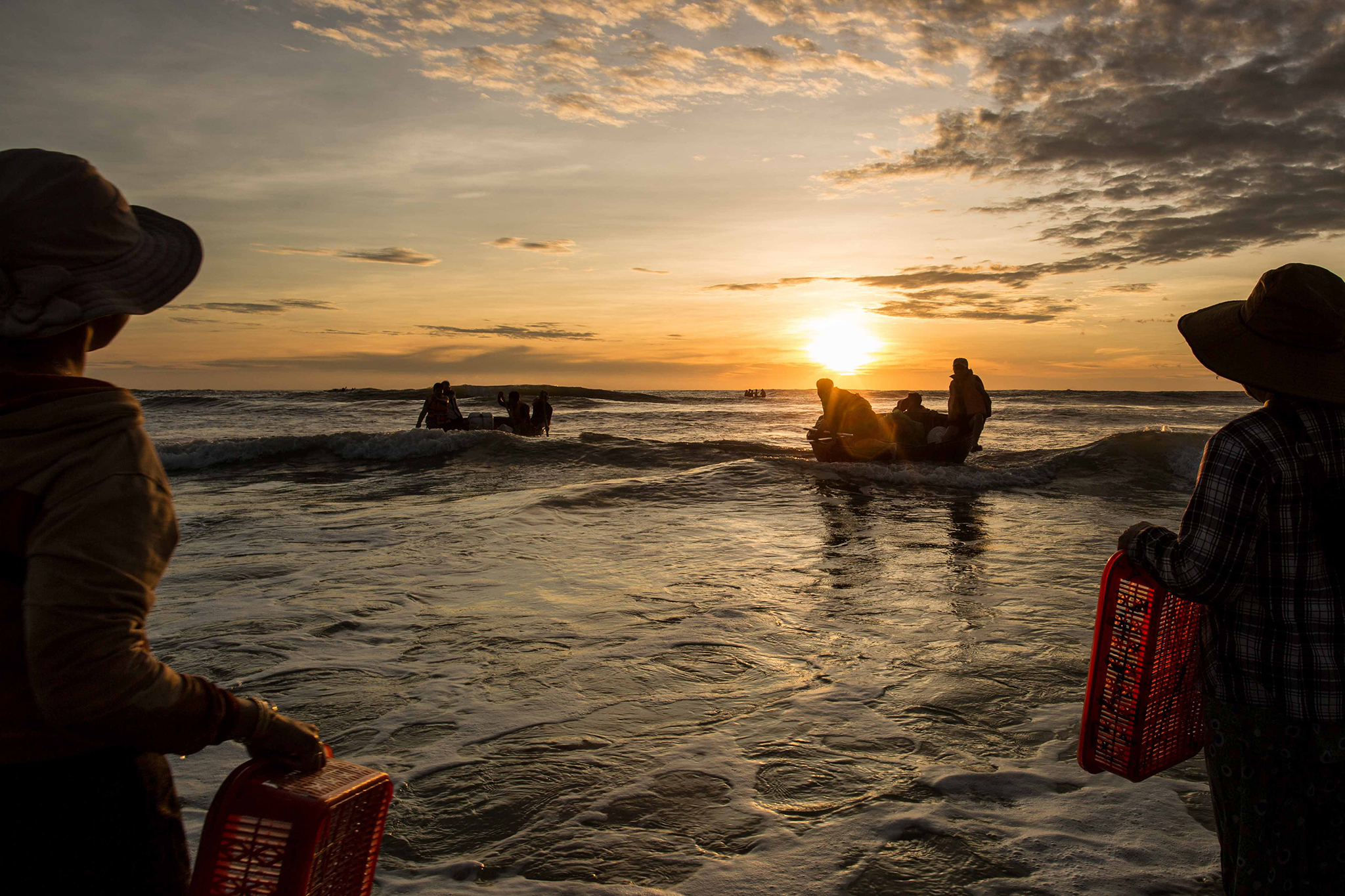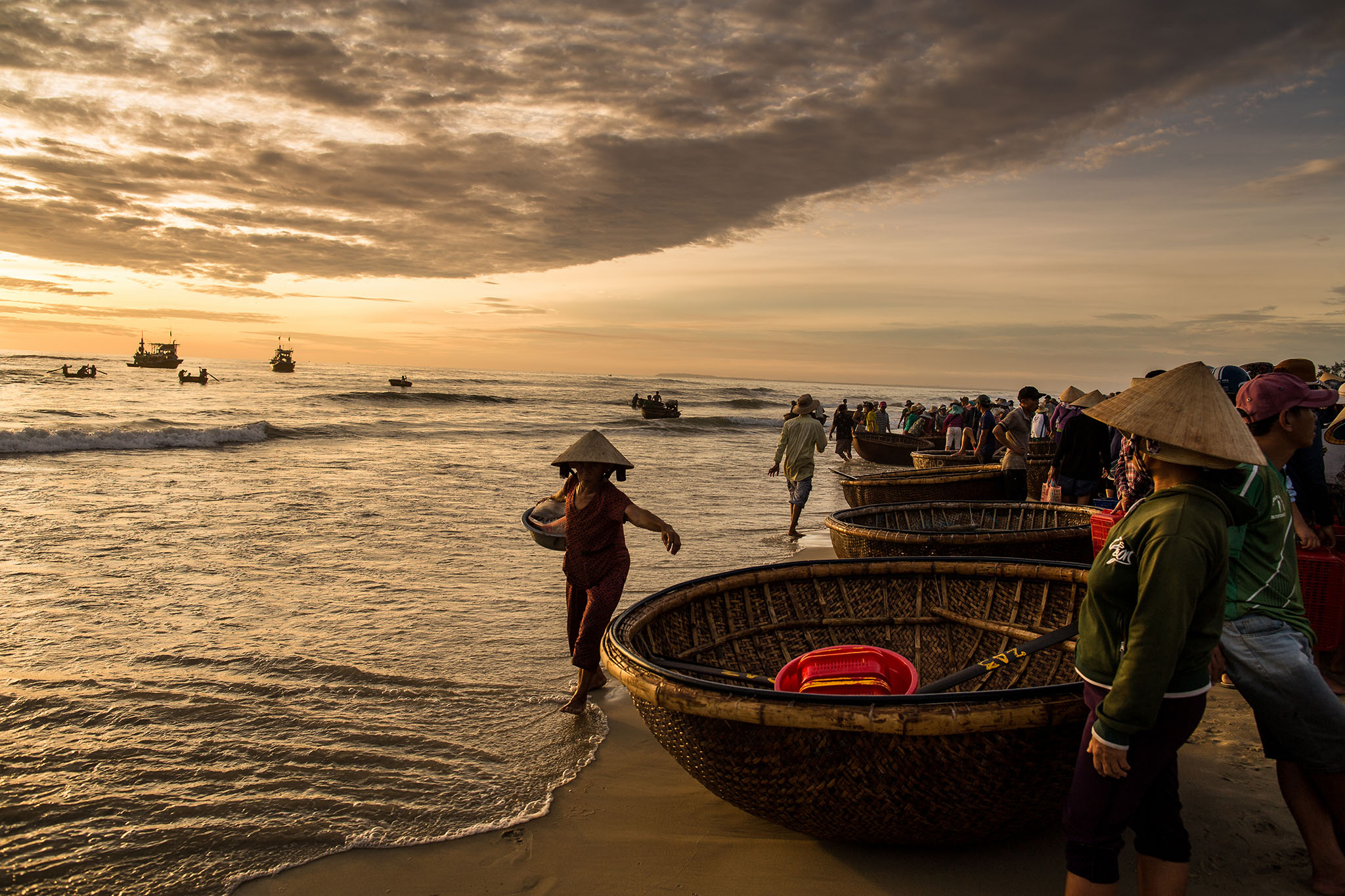 We will rise early to capture the fishing village vibrant morning activities by the beach and at sea, from sunrise to the early golden hours – one of our favorite morning of this tour!
After a break, we will hop on our private van and head north to Lang Co lagoon. We'll make a few photo stops along the way, notably to take in the many superb views from the Hai Van pass higher points. We'll be arriving just in time to catch the lagoon's fishermen chasing clams under the setting sun.
Dinner and night in Phu Loc.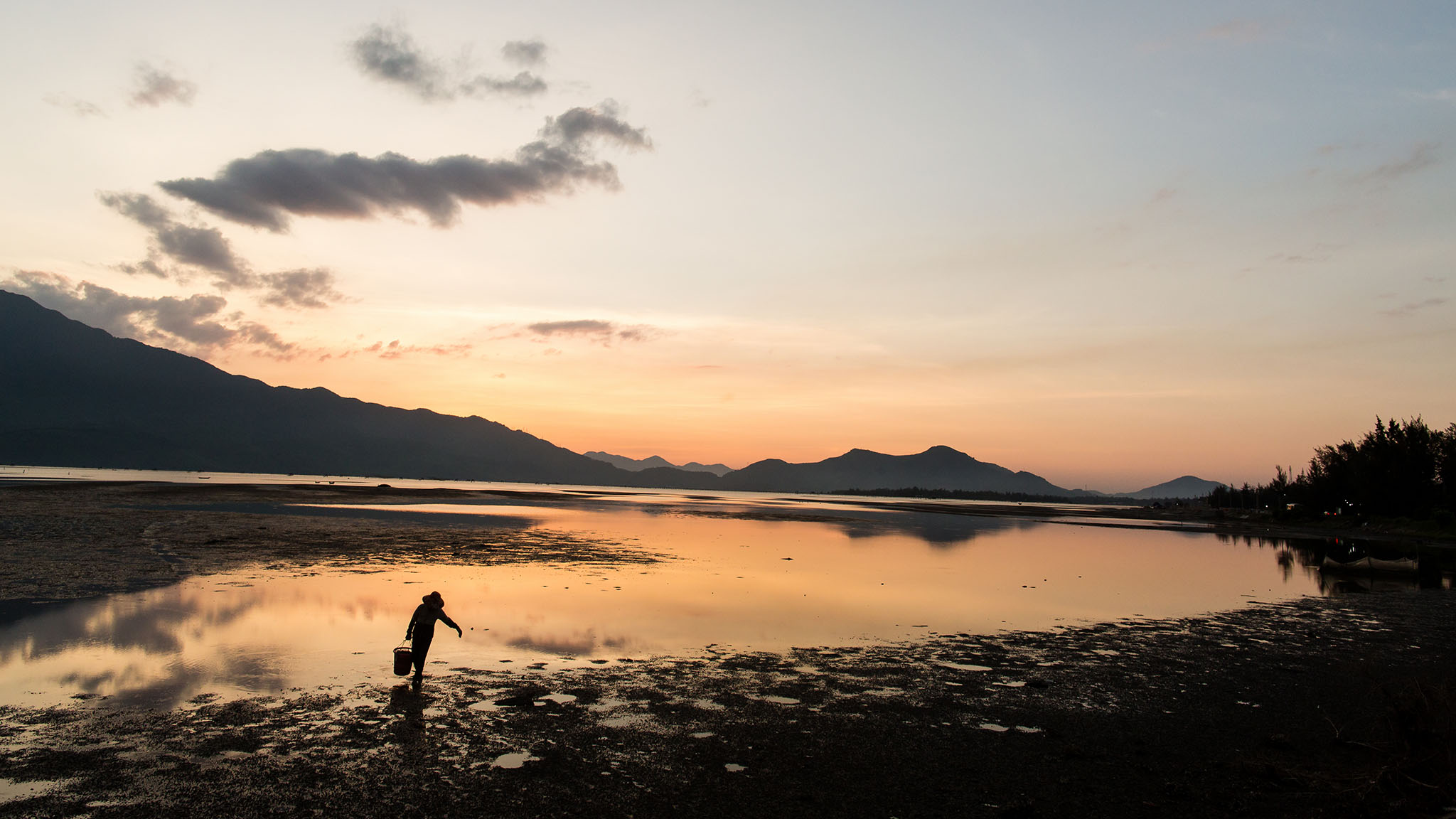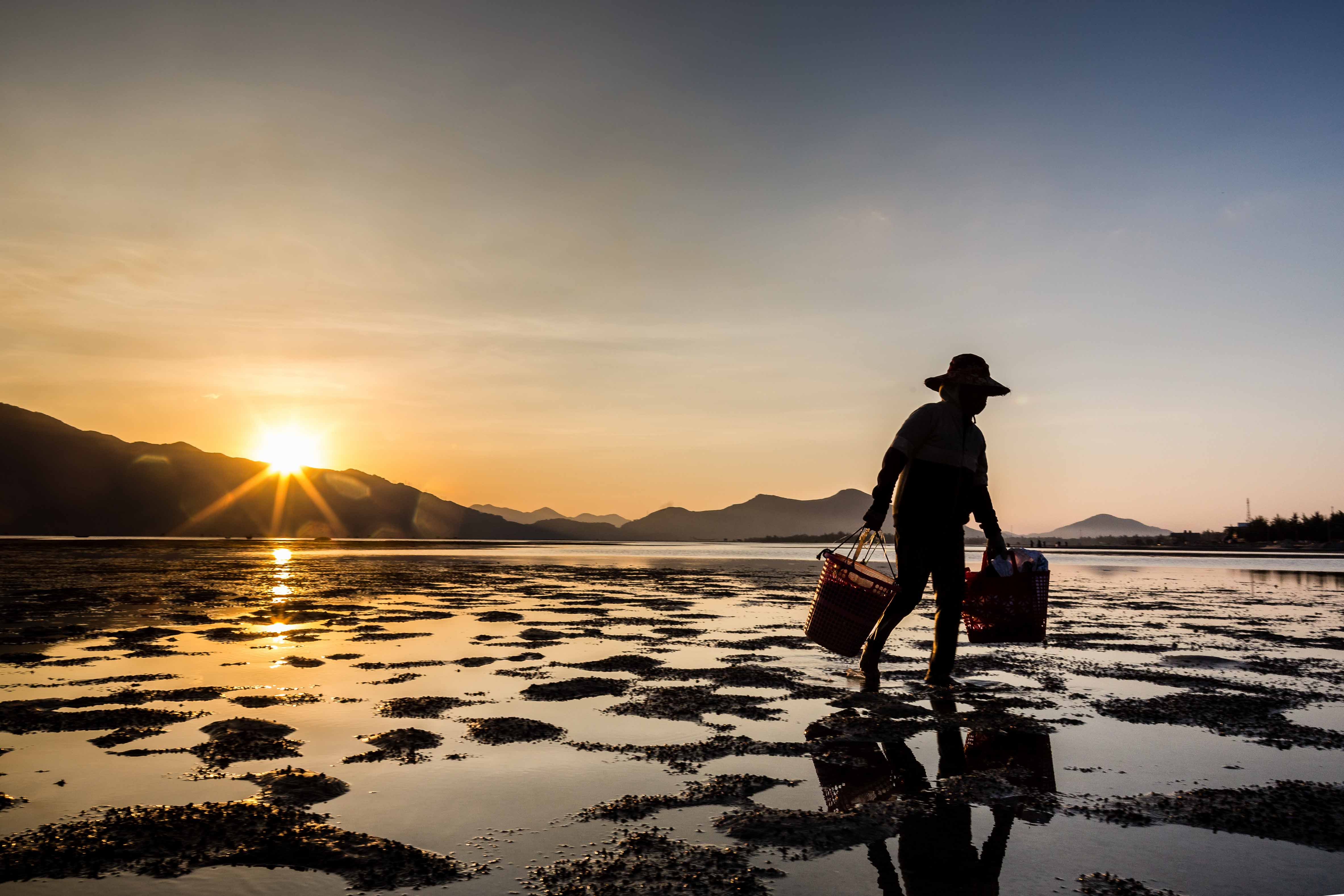 Day 4
● Phu Loc Lagoon
● 2 hours' travelling / 5 hour photography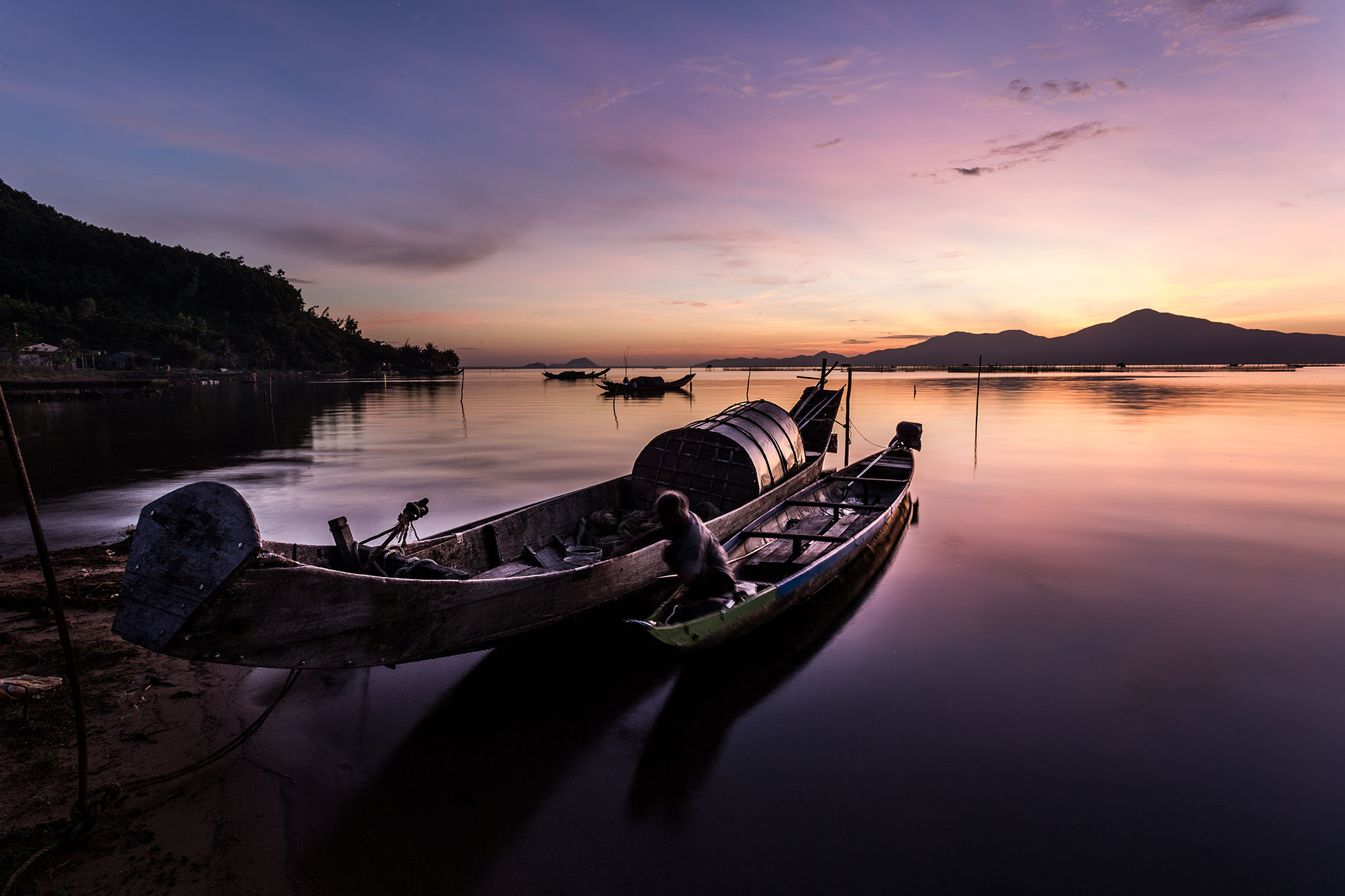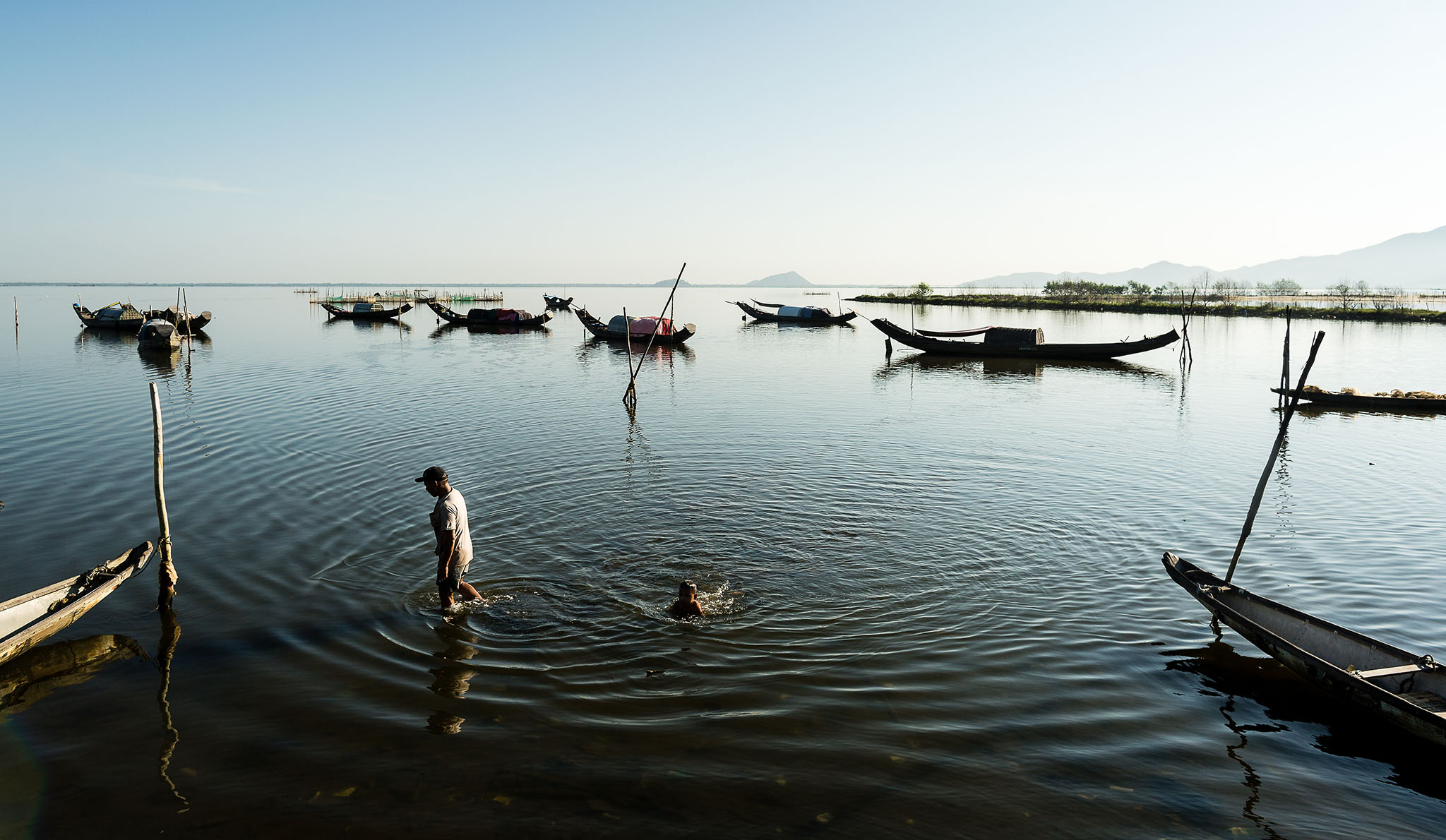 We will start our morning with a beautiful sunrise over the Phu Loc lagoon, the time when the fishermen are heading back from their night fishing excusions. We will then wander along the lagoon and the fishing village to witness the every day activities of the locals.
We'll spend the late afternoon and sunset chasing photo opportunities around the peaceful and scenic atmosphere of the lagoon.
Dinner and night in Phu Loc.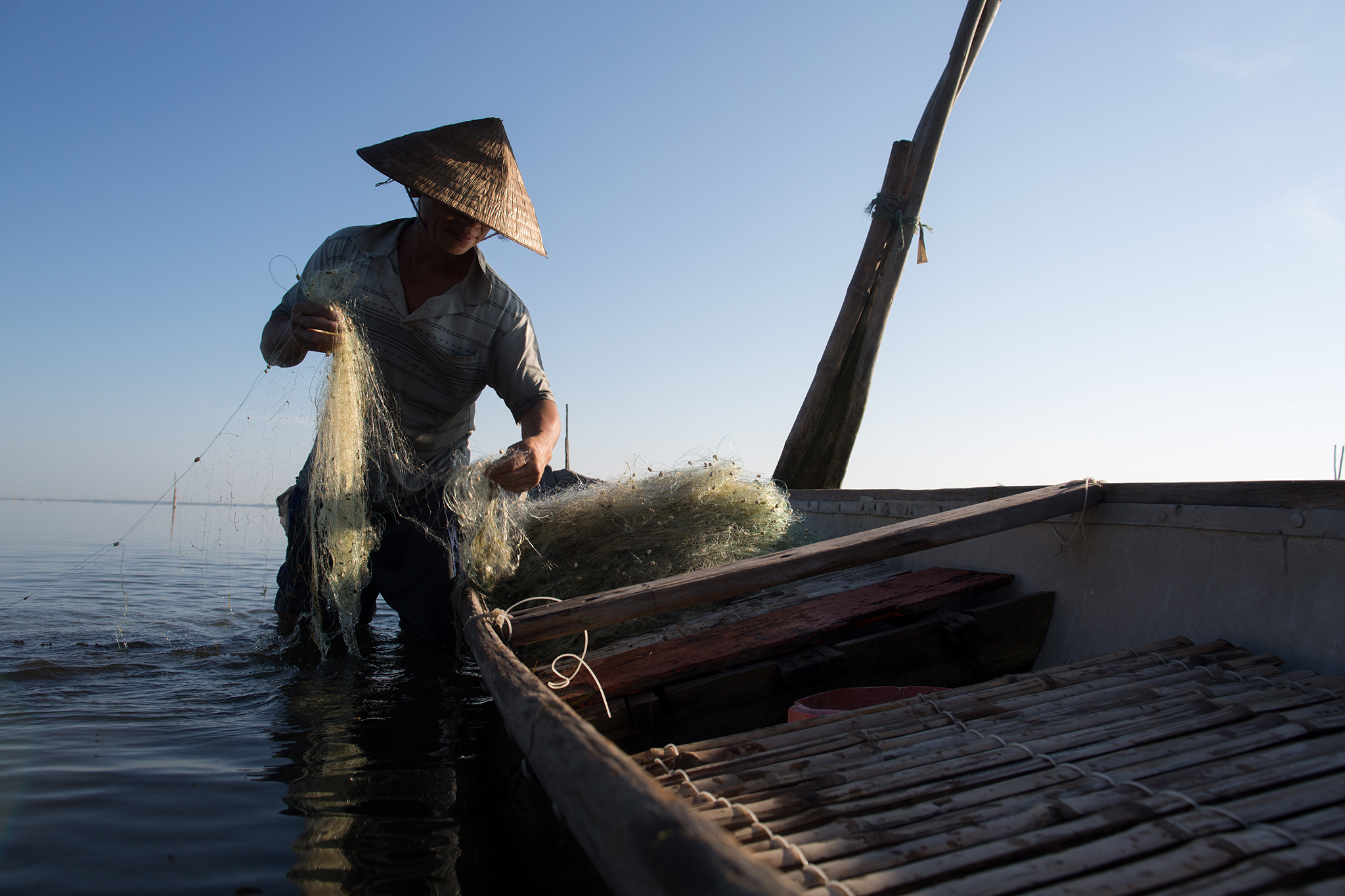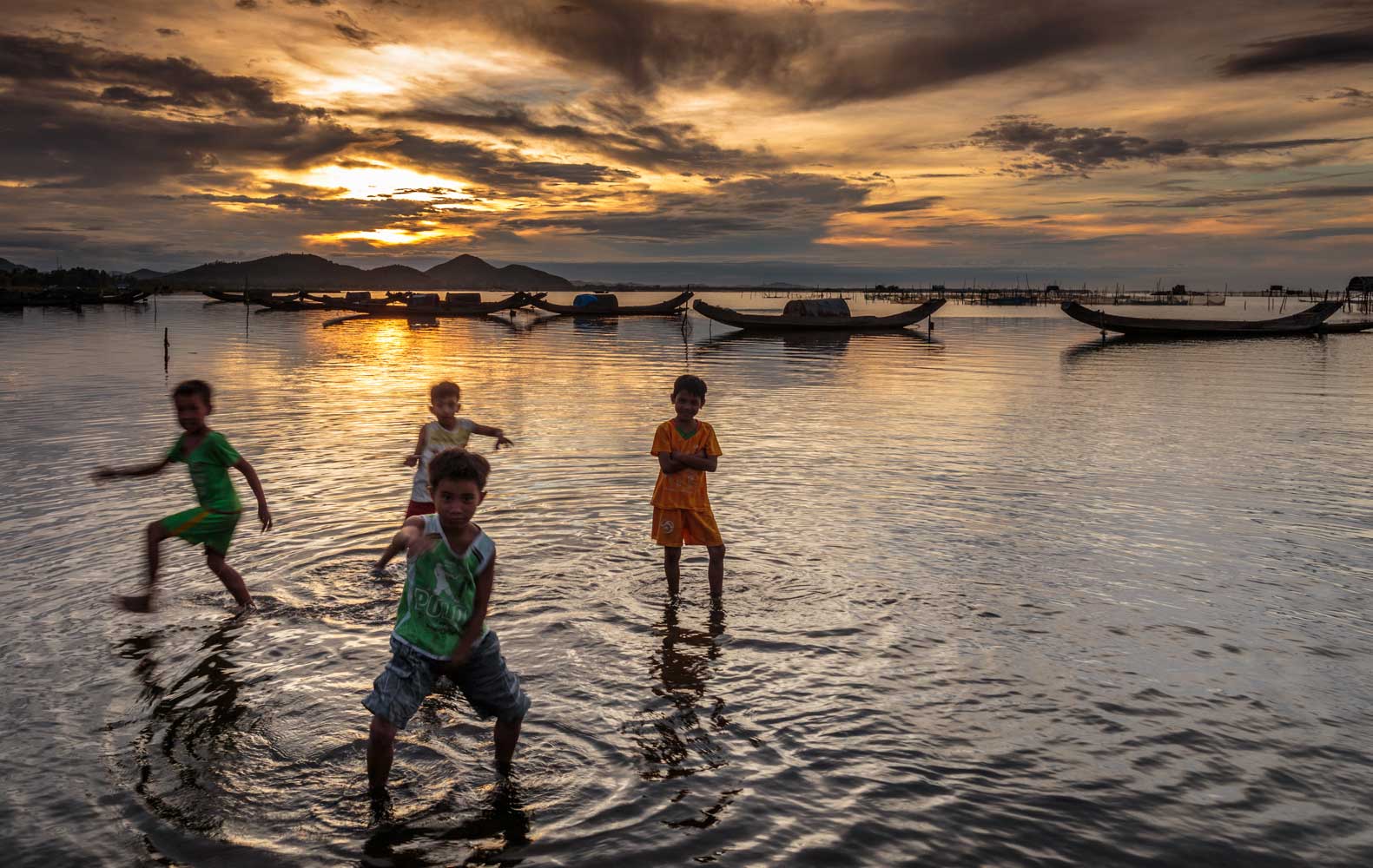 Day 5
● Phu Loc ▸ Hoi An
● 3 hours' travelling / 2 hour photography / Final photo review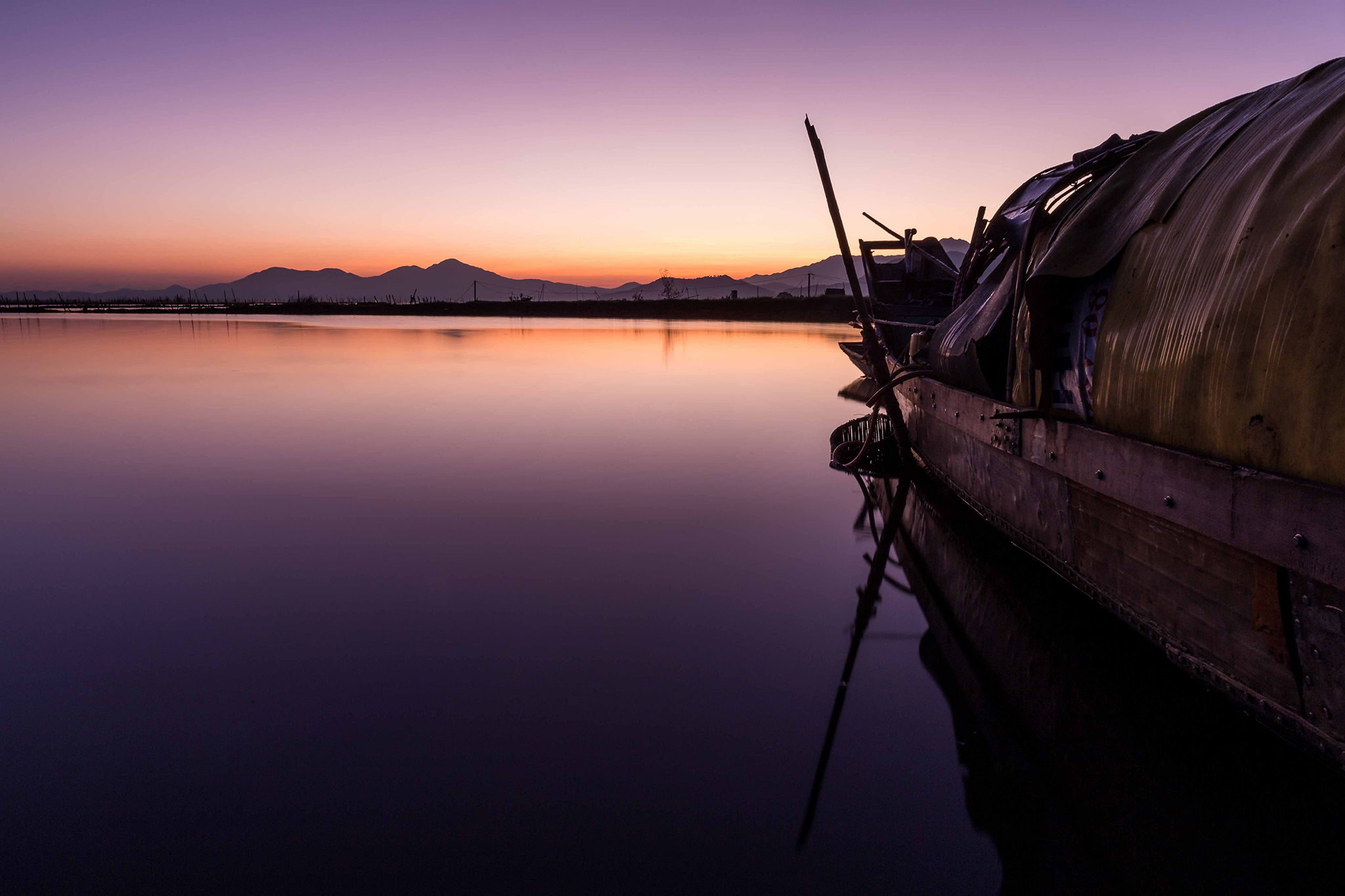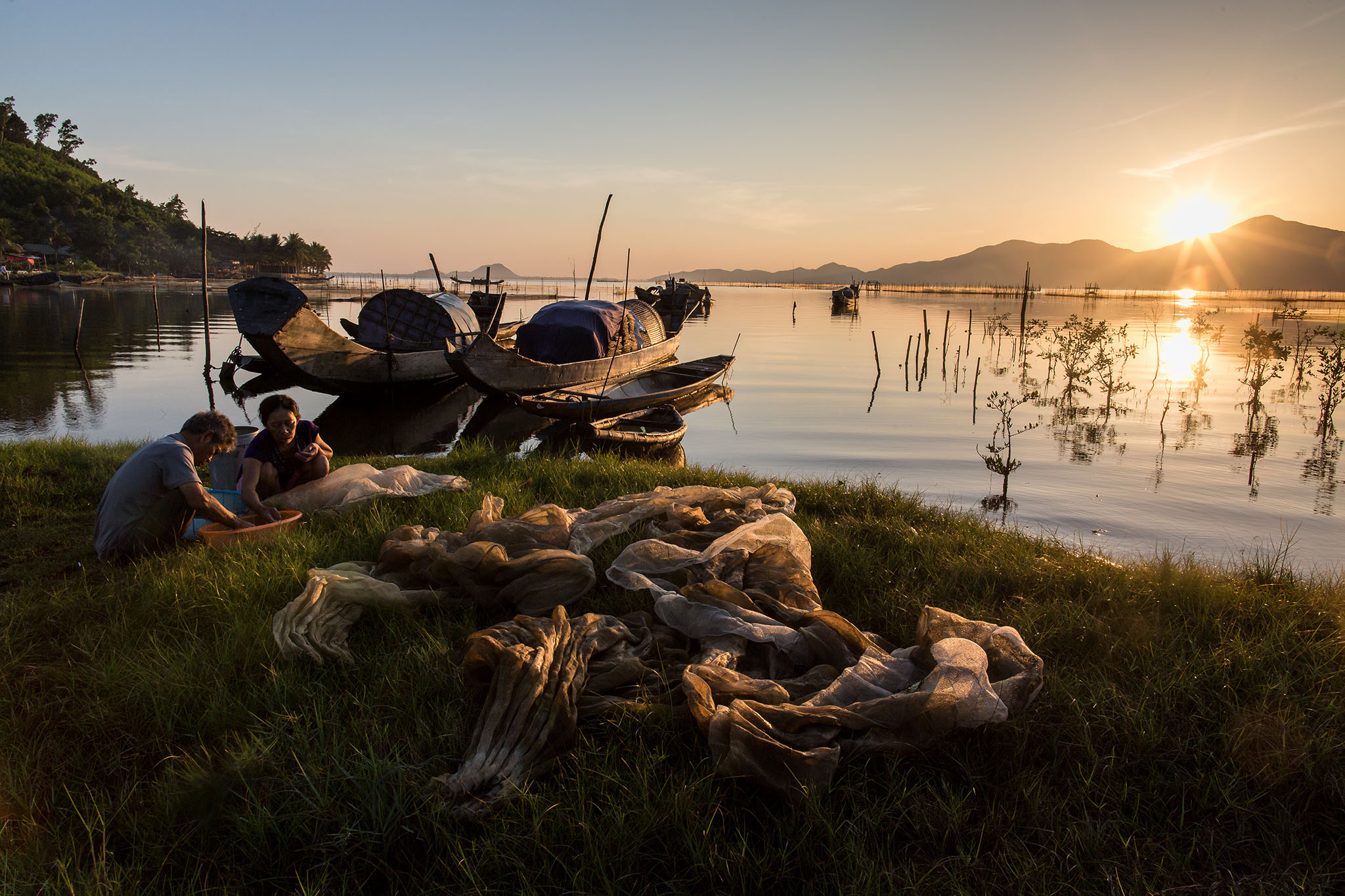 We will spend the morning in another great location by the shores of the Phu Loc lagoon, capturing one last slice of local life under the rising sun light.
After a final review of our best image selection, we will head back to Danang and Hoi An.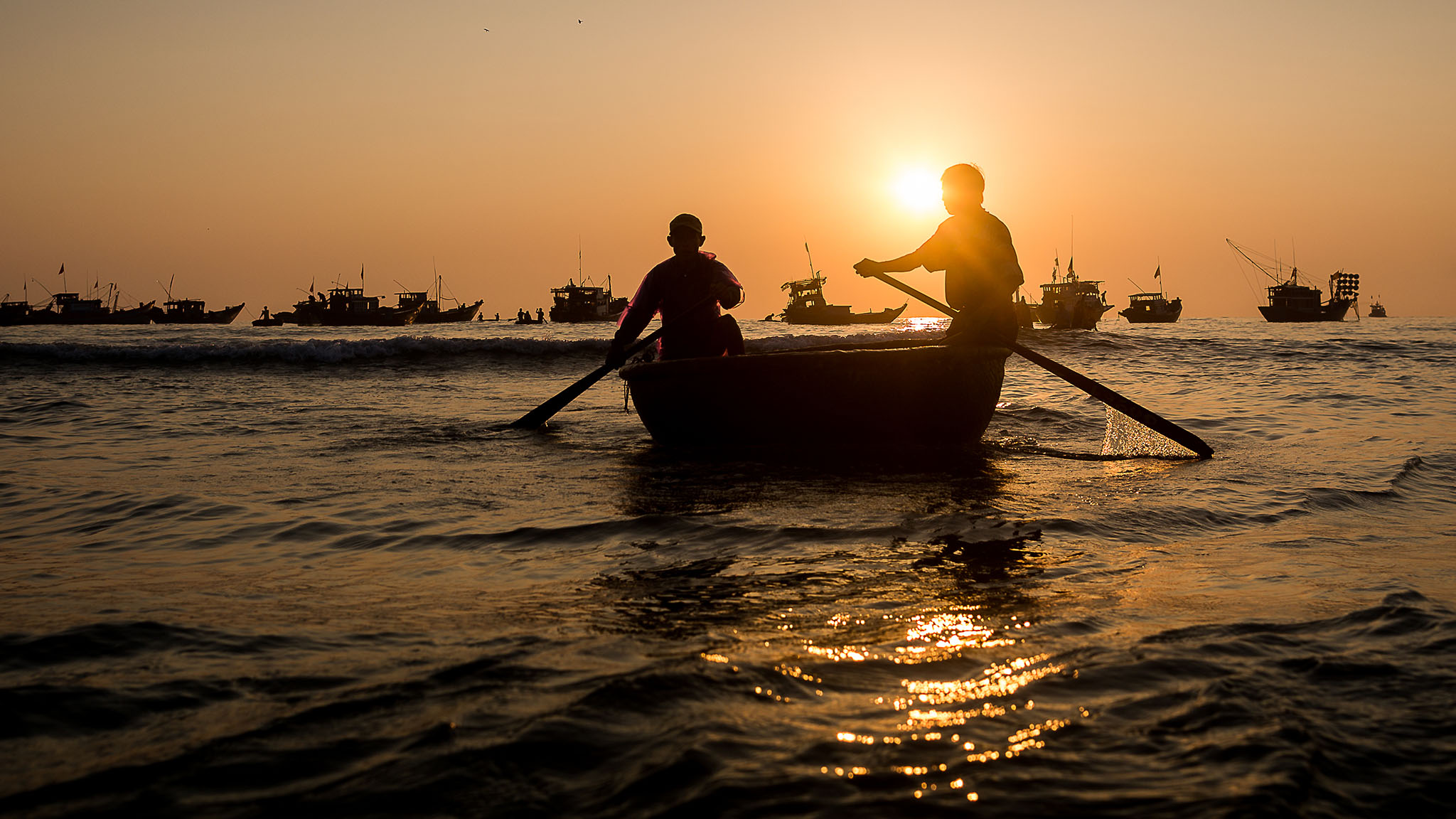 CENTRAL VIETNAM: LIFE BY THE COAST
Testimonials
Tour Details
Price: US$1790 / person
Tour Dates:
– 11 to 15 June 2022 & 27 to 31 August 2022
– 10 to 14 June 2023 & 25 to 29 August 2023
Duration: 5 days / 4 nights
Group Size: 6 persons max.
Level: Beginners to Advanced
Tour starts in Hoi An (35 km South of Danang airport – Central Vietnam)
Tour finishes in Danang and Hoi An (or in Hue if your trip get you there)
Includes
Twin-shared rooms in 3 to 4* hotels in Hoi An and Lang Co
Private air-conditioned ground transportation and boat rides
Meals and non-alcoholic beverages throughout the tour
Snacks and water during excursions
Sites entry fees (if applicable)
Excludes
International/domestic flight to arrive and depart in/from Danang
Airport transfers on arrival and departure
Entry Visa to Vietnam
Travel insurance (please make sure you are insured)
Alcoholic beverages
Personal expenses
Tips
Optional
Single room accommodation (when possible): +US$200
General Information
Who are our tours designed for?
Anyone who loves travel and photography is welcomed, whatever your level of experience – the most important thing is enthusiasm. Our tours can be summed up in three words – sharing, friendship and smiles. Your non-photographer friends & family are also welcomed to join – as long as they don't mind hanging around while the photographers do their thing!
Improve your photography!
With Arnaud's advice and guidance, you'll quickly become more familiar with your equipment and refine your eye for a good image without being swamped by technical details. You'll learn how to read light, how to compose a shot, and how to tell a visual story – in short, you'll release more of your creative potential.
Mastering photography is a long and enjoyable journey, and one without end. The main objective of our tours is for you to become a better photographer by the end of each day.
The best camera is the one you already have! Travel light – a DSLR with wide angle and zoom lenses is more than sufficient for our tours. Hybrids, compacts and even smartphones are equally welcome! Other than that, all you'll need is a fully-charged battery and enough memory cards. If you can, bring along your laptop so we can critique your photos and also show you a few tips for using Lightroom.
You'll get to meet the local population, find out about their way of life, and experience their friendly company – all while taking some fantastic photos! We'll show you how to break the ice with the Vietnamese and how to make your camera a valuable ally in making connections with them.
We don't impose strict itineraries on our travelers; every one of our journeys in Vietnam is unique – no two tours are ever the same! Spontaneous encounters and varying light conditions create different photography opportunities every time. One moment you'll be standing on the edge of a rice field photographing a farmer at work; the next you'll be invited into a local house for tea; or maybe you'll be navigating your way along a narrow canal by sampan or a country lane on the back of a motorbike – most of the time we'll just go with the flow!
Our maximum group size is six. This enables us to give every photographer plenty of individual attention, and also makes it easier for us to blend into the environment and not be overly intrusive when we're meeting the locals.
Your Host - Arnaud Foucard
A keen photographer of landscapes and people, Arnaud leads photography tours in the Mekong Delta and other beautiful places in Vietnam. Before becoming a photographer he spent ten years in Vietnam as a tour operator and knows the country intimately. Photography has always been his passion, and so one day he decided to turn that passion into a living – now he devotes his time to helping fellow photography enthusiasts discover little-known and picturesque parts of Vietnam, while improving their photographic skills.